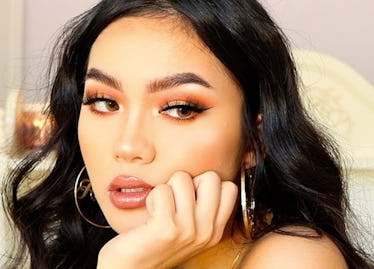 The Morning Makeup Routine You Need To Try, Based On Your Zodiac Sign
Courtesy of Jessica Vu
When it comes to mornings, you don't have time to play around. You might (accidentally) hit the snooze button about 15 times, giving yourself far too little time to get ready. You barely have time to put on pants, let alone debate your morning makeup routine. Wouldn't it just be easier if your daily glam sesh was just destined for you, like your horoscope? You wouldn't have to debate which lipstick would best compliment your lion-like Leo hair, or which smoky shadows would show the world you're a Scorpio (aka not to be messed with). You'd simply know which beat would best compliment your looks, your personality, and, most importantly, your astrological sign.
A practical Capricorn might not love a cut crease with all its dramatic bells and whistles, while Virgo could drown in the depths of a dark graphic liner. A Libra wouldn't be done justice in a neon undersmoke.
Your horoscope might tell you how many cats you're going to have or when you might meet that perfect guy who wears plaid un-ironically and has just enough scruff, not too much that food gets stuck in it, ya know, but enough that it makes him look a little disheveled. It's clear your sign can reveal your destiny, but who knew it could take the guesswork out of your perfect makeup look? If you're feeling artistically stunted or just lazy AF in the a.m., just look to astrology.
Aquarius
Nothing says trendsetter quite like a glossy lid, and we all know Aquarians are all about breaking the mold. For the ultimate high-shine effect, pair with a glossy lip and dewy, reflective skin. It's progressive without showing that you care too much.
Pisces
For the imaginative Pisces, try a navy blue undersmoke (smoky shadow underneath the eyes). The watery tone so close to the iris will make any blue, green, or warm brown eye sparkle. It's definitely not boring, but it's still wearable for everyday. Keep all the other complimentary tones nude and soft so the focus really stays on the eyes.
Aries
Hey there, you bold Aries you. You need a look that matches your red hot temperament. Why not go for a warm monochromatic glam with orangey tones decking your eyes, lips, and cheeks. Now you can wear you emotions on your face, which is a nice change of pace from your sleeve.
Taurus
A stable, practical Taurus deserves an earthy look to match such a down-to-earth personality. Opt for a matte brown smoky eye with a simple glossy, nude lip. Really smoke out the bottom lashline to show that you mean business.
Gemini
I bet all you Gemini were expected a two-toned eye look, but you deserve something much more subtle. Try a halo smoky eye on for size (a super bright lid and rich, dark inner and outer corners). Show off both the light and dark aspects of your personality in one fell swoop.
Cancer
What is better for a Cancer than some subtle glitter tears. So, you've got a lot of feelings. So what? Rock your passion and your emotional depth by giving tears a prominent and beautiful place on your face.
Leo
I think all you Leo's were expecting a look just like this. What's a better fit for royalty than a bronzey golden eye, a bold red lip, and just a lot of overall glam. After all, all eyes should be on you, all the time.
Virgo
Sweet, pure, and powerful, Virgos are known for being bright eyed and bushy-tailed. A look that puts all the emphasis on your expressive eyes is right up your alley. Focus on a dazzlingly bright inner corner highlight and let your skin shine.
Libra
A graphic cat eye is perfect for a Libra. It's the sign of balance, after all. Keep the rest of the look toned down so everyone you meet will be focused on your fierce, but fair and clear judgement eyes.
Scorpio
If anyone can rock a dramatic, all matte black smoky eye, it's a Scorpio. Line your lids first with the blackest black liner you can find, before patting shadow on top to achieve ultimate saturation. Pair with intense contour and highlight so you can intimidate everyone you meet.
Sagittarius
All metallic everything will fit any freedom-loving Sagittarius perfectly. Opt for a softer, bronze tone lightly washed over the eyes, lips, and cheeks to show how adventurous you can be without going overboard.
Capricorn
Capricorns are traditional, so their everyday makeup should be chic AF. A Capricorn's makeup should just compliment their natural beauty and awesomeness, rather than standing out on its own.