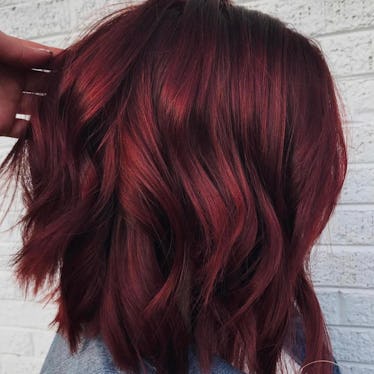 "Mulled Wine" Is The Latest Hair Color Trend & It's The '90s Meets Holiday Heaven
I love '90s style more than anyone. From grungy floral dresses to Morpheus shades, the fashion pieces that defined that era hold major court in my wardrobe. The beauty looks, though? I'm way less into them. Or I was, until I saw all the photos of mulled wine hair color. The purple-ish red shade I once despised is definitely having a fresh moment, and I've got to admit, it's as captivating as a freshly-poured glass of warm winter sangria.
Of course, this might potentially be due to the fact that I now know how delicious mulled wine tastes. I had it for the first time beneath Eiffel Tower when I was studying abroad in Paris, so it was even that much more amazing. I'll be honest, I'd have a hard time associating it with anything negative. But while I'm no stranger to experimenting with random hair colors (my hair has been strawberry blonde, white platinum, cotton candy pink, silvery purple, brown...the list goes on), for some reason, the mulled wine hue has never sat right with me.
When I saw my fellow classmates try it out in high school, I always thought it awkwardly straddled the line between potentially-natural and intentionally-unnatural, and saw very few people who I felt thoroughly pulled it off. I should note that I went to middle and high school in the 2000s, when blonde hair with black highlights were all the rage, so my perception of good hair color wasn't suuuper reliable.
As proven by a slew of the biggest '90s fashion and beauty icons who rocked mulled wine in their heyday, there were a lot of people who didn't share in my sentiments. Stars with the likes of Claire Danes, Neve Campbell, and Brittany Murphy — aka the coolest girls on the face of planet earth — all tested out the color at one point, which soon became ubiquitous with '90s beauty alongside brown lipstick.
And now, the rich color is resurfacing just in time for the holiday season, as evidenced by the multitudes of women posting about their warm new dye jobs on social media.
Ranging from a more chocolatey hue to a vivid berry, the shades are incredibly diverse and unique. Furthermore, they're applied in a range of ways, from balayage to highlights to single process.
Mulled wine hair is super versatile, and can be altered to flatter pretty much every skin tone. "It looks super dimensional, youthful, and is a way more modern way to pull off a deep, red color," hairstylist Rachel Bodt told Allure.
If you've been wanting to alter your hair for the holidays but weren't sure what direction to go in, mulled wine is obviously festive AF.
Plus, mulled wine is also a super timely new hair trend, seeing as the winter months lend themselves well to deeper and more intense hues. In addition to your hair, your lipsticks, blushes, and eyeshadows can benefit from a nice dose of warmth.
My personal favorite winter beauty look consists of bold brows, a light layer of mascara, and a deep berry colored lip. Not only does it brighten up a dull complexion (I'm super pale as it is so I become even more so in the winter), but it also prevents the age-old issue of red wine stained lips...mulled, or otherwise.
If the above photos are any indication, it looks like the bordeaux hair shade will have a similar brightening effect. If your hair is already brown, a color-depositing mask can help you temporarily achieve the look by adding warm, red tones. And if you decide to commit to mulled wine, your salon coloring session will bring a whole new meaning to happy hour.