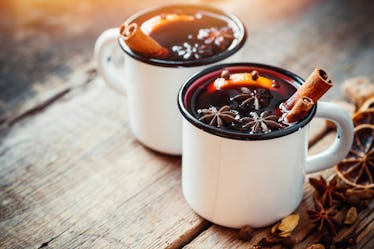 These 7 Mulled Wine Recipes Will Keep You Toasty All Season Long
As if wine didn't already make you feel relaxed and cozy enough, mulled wine is here to keep you company during the colder months. Not only is the festive blend incredibly euphoric, but mulled wine recipes can include some of your favorite choices of red wine, spices, and even citrus fruits.
Think of it as a sangria for the wintertime, except it's warm and you can go wild and stick a cinnamon stick in it, too. Sipping on a hot beverage during the winter is almost incomplete without a cinnamon stick though, right? Another great thing about this warm wine creation is that you can make it right in your kitchen. Turn your kitchen into that very candle you purchased at Bath & Body Works, because mulled wine blesses basically all of the senses. From the tastes to the smells, you'll never want to leave your house once you've set it on the stove.
Can you see it yet? You're bundled up in one of your favorite blankets, wearing your comfy PJs, and in your hand is a nice, warm mug full of your very own mulled wine. As an adult, that sounds like a slice of heaven. Wanting is the easy part, so take some tips on how to get started in the kitchen and make your way toward mulled wine perfection.