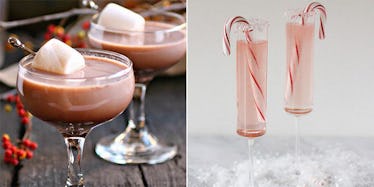 30 Winter Cocktails To Get You Through The Holidays With Your Family (Photos)
Mon Cheri Bridals/Fruet Cake
The holiday season is upon us, so you know what that means... it's time to eat, be merry and, most importantly, drink!
Yep, there's no better time of year to indulge a little and warm up with some boozy, sweater-weather sips.
Plus, let's face it, Christmas just wouldn't be the same if you didn't blackout at your office holiday party and embarrass the sh*t out of yourself.
If you're searching for the perfect cocktails to serve at your seasonal soiree or simply looking for a delicious way to drink yourself through Christmas dinner with your insufferable relatives, you came to the right place.
It turns out there are tons of ways you can top your toddies in tinsel and make your booze merry for the occasion.
So in order to help to get in the holiday spirit, we set out to find a bunch of festive winter cocktails that are guaranteed to get you more lit than a Christmas tree.
No really, these drinks are so damn good, they should be on Santa's naughty list.
Take a look at the pictures below to see winter cocktails that will keep you warmer than an ugly Christmas sweater.
Winter Sangria
Winter Wonderland Martini
Winter Sun Cocktail
Hot Buttered Rosemary and Fig Bourbon Cider
Rudolph's Cran Fizz
Winter Champagne Cocktail
Hot Buttered Hazelnut Whiskey
Prohibition Toddy
Nutcracker Cocktail
Chilled Cocoa Martini
Holiday Highball
Candy Cane Shooters
Pomegranate Rosemary Spritzer
Hornito's Tequila Toddy
Warm Spiced Vanilla Cocktail
Absinthe Suisse
Stout Gingerbread Flip
Cranberry Ginger Sparkling Rum Cider
White Mulled Wine
Kahlua Eggnog Cocktail
Sex On A Snowbank
Holiday Apple Mule
Jingle Juice
Mulled Wine
Christmas Tree Cocktail
Bulleit Hot Toddy
Peppermint White Christmas
Kahlua Hot Chocolate
Coconut Vanilla Bellinis
Cranberry Ginger Vanilla Margaritas