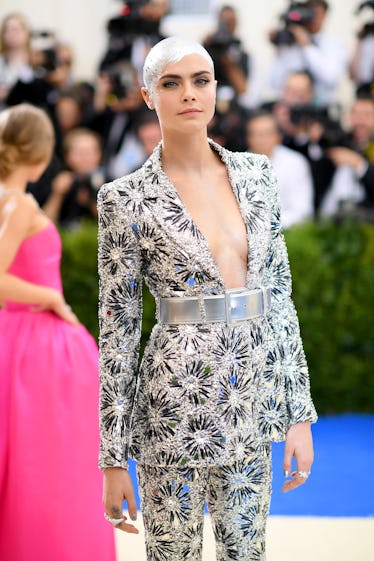 This Metallic Hair Color Will Be 2018's Biggest Beauty Trend, So Get Ready To Shine
Dimitrios Kambouris/Getty Images Entertainment/Getty Images
We haven't even said cheers to the crapshoot of 2017 yet, but stylists and beauty editors alike are already predicting what looks will define the coming year. From rose gold tips to bleach blonde crops, this year saw its fair share of bold and dramatic colors. And now, 2018 hair trends predict that metallic hair colors will shine all other hues out there.
"We're beginning to see a huge increase in guests asking for metallic-inspired color in the salon. I think that it's partly due to the transition of the trend from glossy finishes to metallic on the catwalk," award-winning colorist Jack Howard told Refinery 29. "We've also seen the metallic element continued into makeup looks."
Indeed, all-metallic-everything dominated the 2017 runways, both in regard to beauty looks and clothing. At Maison Margiela's fall 2017 couture show, models like Bella Hadid took to the catwalk with hair that had been shellacked into stiff helmets of solid gold; the makeup look at Alexis Mabille's fall 2017 show consisted of angular slashes of gold shadow above each eye; and brands including J.W. Anderson, Miu Miu, Chanel, Balenciaga, Michael Kors, Isabel Marant, Dolce & Gabbana, and more sent head-to-toe silver looks down their high gloss runways.
Oh, and let me not forget that Cara Delevingne, after shaving her head completely for her role in Life in a Year, arrived to the 2017 Met Gala with her scalp coated in shimmery silver paint and sequins.
Whatever beauty trends debut or find popularity during the fashion weeks in Paris, Milan, New York, and London have a way of trickling down to influence everyday trends, so it's not entirely surprising to me that metallic hair is set to have a major moment in 2018. As a huge fan of all things glittery and shiny, I can't wait to see how it unfolds.
To clarify, gray hair is nothing super new. Celebrities from Kylie Jenner to Mel B to Winnie Harlow have all test driven the hue. But it seems that 2018's take will involve high gloss that will take matte grays to more metallic heights. L'Oreal Professionel developed an in-salon service called Metals by Majirel, that ensures transformative shine and is for all hair types and textures. Refinery 29 reports that if "all-out silver sounds too bold a first step, the Majirel Metals can actually be used as a glaze to add shine to existing color," which would only last four to six weeks. So if you're afraid to become a permanent metal head, there's a solution for you.
I tried a somewhat grayish hue in college, though it was weighted with undertones of purple. It looked amazing for the first week or so, but quickly dissolved into a murky, dull hue. I can't help but to wonder if a sealing layer of high level gloss would have helped me achieve a lasting liquid metal effect. This seems like a tempting opportunity to give it a second try.
All of this talk about silvers and golds also has me thinking about the XXIII Olympic Winter Games in Pyeongchang that will happening next year. How epic it would be if athletes took to the slopes with hair that corresponded to their medaling aspirations?! Maybe it would blow up the beauty sphere like Ryan Lochte's bluish green hair did at the Summer 2016 Olympics in Rio.
We'll have to wait until February to see if the world's best athletes will champion metallic hair for the year, but until then, we've got Twitter, where women have already been posting photos of their ultra shiny hair in hoards.
While silver is definitely the most popular color choice, I think all of them look super gorgeous and luxe, and would be the perfect way to add a hint of shimmer to your holiday looks. It may not be 2018 yet of course, but you're ahead of the curve.