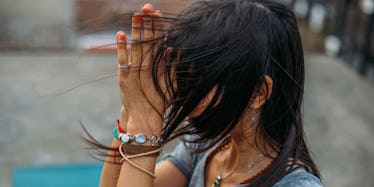 7 Meditative Steps That Will Help You Manifest The New Year You Deserve
Imagine you had the ability to create the world of your absolute dreams around you. According to the law of attraction (also known as "manifestation"), you are completely capable of making whatever you want appear in your life — if you truly believe it's possible. So, with the new year approaching, you're probably wondering how to manifest what you want in 2018, so that your New Year's resolutions don't get pushed aside and forgotten (yet again).
Though turning your dreams into reality through manifestation is possible, not many people know where to start. Manifestation, on the surface, can seem like a magical and mystical concept that is far out of your reach.
Elite Daily spoke with Los Angeles-based yoga instructor and health and wellness expert Sophie Jaffe, who swears by the power of manifestation, to shed some light on this powerful practice.
"Our thoughts are powerful," she says over email. "What we think, what we become — with the assistance of certain spiritual tools and [hard work], we can manifest the life we've always dreamed of."
Jaffe tells Elite Daily she personally strives for manifestation in her everyday life, not just when the new year comes around. But a change in the calendar is often the perfect opportunity for you to test out your own ability to manifest anything your heart desires.
So, when you're ready to manifest your dreams for 2018, Jaffe recommends following these seven steps to bring your thoughts and goals out of your mind and into reality.