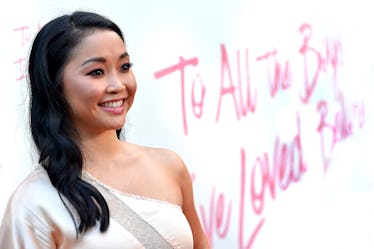 Lana Condor Made A Major Hair Change & The Photos Will Have You Ditching Your Scrunchie, Too
Charley Gallay/Getty Images Entertainment/Getty Images
If you've watched Netflix's original just-released movie, To All The Boys I've Loved Before (which, if you haven't, you need to STAT), then you'll remember Lara Jean's long, flowing locks, which she typically ties back with her favorite scrunchie. I'm here to inform you that said locks are no more, as proven by photos of Lara Condor's haircut, which the actress, who plays Lara Jean, uploaded to her Instagram stories today. You can keep that scrunchie, Gen, Lara Jean — err, Condor won't be needing it, anyways.
Before we get into the crop itself, I want to give you a tiny little synopsis of the film. It's definitely got its fair share of cheese, but its heartwarming and optimistic storyline make it a movie that's still worth watching. Essentially, it centers on Condor, AKA Lara Jean, the middle of three sisters to a single father. It details her past love interests and follows along as she pursues a new one but under very interesting circumstances. It's a coming-of-age film mixed with sticky sweet romance, and it was just what my single AF self needed last Wednesday night. (Yes, a fictional high schooler's highly unlikely romance has restored my faith in love. What about it?)
Condor does such an awesome job of embodying all of Lara Jean's many sides — her empowered doesn't-take-no-s*it badass and sweet and hopeful romantic — that it's impossible not to fall in love with her by the end of the film. To All The Boys I've Loved Before literally took her from relatively unknown actress to mega star in a matter of days, so much so that the entire world (myself included) now cares when she cuts her hair. What a life!
Via her Instagram stories, Condor debuted her new short crop, which is a chin-length cut. She has the top layer pulled back into two half pigtails so it's hard to guess what the layering and face-framing situation might look like, but the sheer loss of inches is striking enough as is. Condor is following in the footsteps of some of today's biggest stars including Saoirse Ronan and Kim Kardashian who have both opted for chin-grazing chops, which just so happens to be one of the biggest haircut trends for fall.
As pointed out by Bustle, Condor is set to appear in an upcoming SyFy network series called Deadly Class and in the trailer for the show her character, Saya Kuroki, has long hair. It seems very likely that Condor therefore cut her hair for her new role, although that reasoning has yet to be confirmed. In fact, when she revealed her new chop via Instagram Condor was actually talking about training for that very role!
Regardless of the reasoning, Condor absolutely rocks her new crop, and it seems Twitter agrees. Fans took to the social media platform to voice their delight with her new look:
What do you think? Do you miss her long hair or dig the short crop? Seeing as Condor is poised for continued meteoric rise, this won't be the first hair transformation we see from the actress. I can't wait for what's to come!