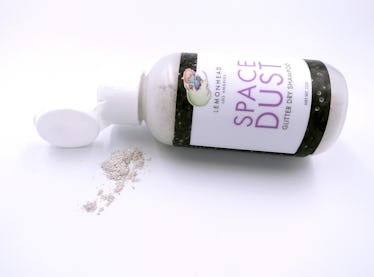 7 Dry Shampoo DIY Hacks For When You're Just Too Lazy To Wash Your Hair
We've all had days when we've woken up, thought "F this!," and gone back to sleep for ten extra minutes, forgoing a needed shower. The result? Greasy hair that could rival that of Danny Zuko. If this is a regular habit of yours, too, fear not: these dry shampoo DIY hacks will help ensure that you can leave the house with your head held high and your hair looking fresh AF, no intricate braids or slicked back top knot necessary.
Up until a few years ago, I washed my hair every single day, without fail. It was a habit that started in the 6th grade after a popular girl told me it was "so gross" that my prepubescent self didn't shower seven days a week. I was scarred, and have been anal about my shampooing habits ever since.
I now know that taking a day or two off in between washes can do wonders in terms of hair texture, hydration, and scalp health, and thus have established a solid four-days per week washing schedule. But, you know, sometimes things like tiredness or one too many martinis get in the way, and those four washes can dwindle to three..or two. On those days, dry shampoo is my best friend.
While a healthy spritz or three through my roots will typically do the trick, there are days when my hair will sop up the dry shampoo in record time or end up looking uber flat and stringy. It almost ends up looking worse than when it started and I'm forced to resort to braids or pulled-back style. Especially on the mornings after those one-too-many-martini nights, I don't always have the energy to spend time on an intricate style.
Luckily, hair colorist extraordinaire Stephanie Brown, who works at New York-based Nunzio Saviano Salon, has some brilliant hacks involving dry shampoo that have me confident my scramost scraggly days are behind me.
I always like to put dry shampoo in my hair right after it's dried — I tend to have greasy hair. Before the gym or before you go to bed is also a good time to apply it because it helps soak up the oil.
If your hair is a little greasy already, use a powder dry shampoo by Living Proof ($23; livingproof), Moroccanoil ($26; moroccanoil) or Unwash ($24; unwash). Brush it though, and then use your blow dryer on low heat to work it in.
I also just discovered that Lemonhead Lemonhead's Powder Dry Shampoo With Glitter ($22; forever21)! It's perfect for when you have a great blow dry from a few days ago and you want it to last for when you go out at night. Or, if you're a glitter queen like me, for anytime.
Sometimes, dry shampoo can double as a texturizer, and a vice versa. I like Oribe's texturizing spray ($46; oribe). I also like to mix a dry shampoo with a volumizer like the Redken Powder Grip ($16; ulta); it's a little gritty, but I like that. This helps give volume and a piecey, beachy look.
If you use too much dry shampoo and you see residue you can use you blow dryer to get some of it out.
Also, let the dry shampoo sit in your hair for a few minutes to allow it to soak up the oil before massaging it around.
There are now dry shampoos that have some color in them, which can be a great tool to hide your roots with when they're growing in. I like Sachajuan's Dark Dry Powder Shampoo ($35; sephora) and Batiste's Divine Dark ($9; ulta), but my favorite right now is Chad Kenyon's Ombré Highlight Spray ($15; gilt). It adds color, volume, and texture — I'm completely obsessed.