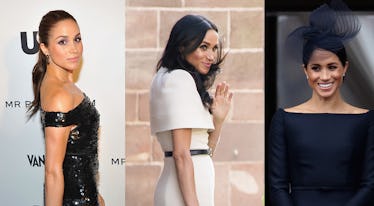 How Meghan Markle's Beauty Look Has Changed Over The Years, Without Ever Masking Her Freckles
Theo Wargo, Anthony Devlin, Chris Jackson/Getty Images
Meghan Markle's beauty game is stunning. There, I said it. You don't need a fancy introduction to know what is, by now, undeniable fact: The woman is gorgeous, and her glam is always on point. But in the mindset of Carrie Bradshaw (I've been watching a lot of Sex and the City), I couldn't help but wonder, how has Meghan Markle's beauty look changed over the years?
When it comes to makeup, nobody gets it right on the first try — we've all gone a little too dark with our eyeshadow or smiled for a picture, only to realize there was red lipstick on our teeth, haven't we? Mastering the look that suits you best is all about a little experimentation, and you'd never see Current Me rocking 2010 Me's bumpy, uneven eyeliner (sorry, girl, you tried). But can the same be said for Meghan Markle? How has her beauty routine changed?
Fortunately, Markle's signature freckles have almost always been on display, but a lot of Markle's early red carpet ~lewks~ from her time on Suits feature much more "done" makeup. Most include dramatic eyes with false lashes and heavy contour and blush, not to mention a much wider variety of hairstyles than she experiments with now.
2012
In 2012, she rocked these curly tendrils, a sultry brown eye with tight-lined lids, and some seriously carved cheekbones. Is this the future Duchess of Sussex, or a future Victoria's Secret Angel? This bronzy look makes both seem equally possible.
Bronzy enough to warm up the face, pigmented enough to create a dramatic contour, the Marc Jacobs Beauty O!Mega Bronzer ($49, marcjacobsbeauty.com) in shade "Tan-Tastic 104" is ideal for this look.
Another 2012 favorite of mine is this icy lilac eye with fluffy false lashes, plus a dewy complexion and coral cheeks and lips. Bonus points for the no-nonsense, pulled-back ponytail.
Suddenly desperate for lilac eyes? Same. The Sephora Collection Colorful Eyeshadow ($8 sephora.com) in shade "349 Starry Night" should do the trick.
2013
In 2013, way before Markle discovered her signature messy bun, she tried out this Old Hollywood-inspired side-swept updo, complemented by a smudgy smoky eye and monochromatic peachy pink blush and lip gloss.
To coordinate your blush and lip color, try the Stila Convertible Color ($25, stilacosmetics.com) in shade "Petunia." It's the perfect cream formula to dab onto both lips and cheeks.
2014
In 2014, we were treated to the rare occurrence of a statement lip, paired with lashes for days and a Delevingne-level brow game. For a dramatic fuchsia pout that isn't too matte, try the Too Faced Peach Kiss Lipstick ($21, toofaced.com) in shade "I Think in Pink."
2015
In more recent years, as Markle matured and grew more comfortable in the spotligh, Markle settled on a stylish, signature look. The no-makeup makeup approach she had always applied to her freckles had now seemingly begun spread to the rest of her regime, and she kept everything minimal and dewy, topped with a natural nude or pinky lip. And when she did put her hair down, she kept things tousled and not too "finished," as seen in the photo above.
To give hair some texture like Markle's without doing too much, spritz a bit of the the R+Co Freeway Defining Spray Gel ($29, randco.com) to break thinks up.
2018
Finally, toward the beginning of 2018, we all became so familiar with Markle's signature hairstyle: the Markle Messy Bun, a perfectly unkempt knot at the nape of her neck, which would become an iconic cool-girl style to be copied by many:
While wearing her messy bun to appearance after appearance with Prince Harry, she switched up her previously peachy, pinky lips and cheeks for deeper nudes and more natural shades to give her makeup an elegant twist:
NARS has a multitasking lip and cheek product called The Multiple ($39, narscosmetics.com), and shades like "Maui" and "Na Pali Coast" blend right in with the deeper neutral shades Markle began rocking.
Fast-forward to Markle's wedding day glam in May 2018, which we've all examined extensively, featuring dewy skin and a daytime smokey eye:
This event also marked the last of Markle's famous, perfectly imperfect hairstyles, including her signature bun with pieces of hair gently falling down at the ceremony, and another updo with even more tendrils around the face for the reception:
After Markle officially became the Duchess of Sussex, she kept her nudey no-makeup makeup glow as is, and her hair underwent the most notable change in her beauty routine.
Now, a royal, Markle has veered away from her beloved messy bun and tousled waves, and opted for shiny, sleek blowouts, more coiffed than her original tousled tresses:
To finish off a blowout with that super glossy, "I'm royalty" touch, spritz the Moroccanoil Glimmer Shine Spray ($28, moroccanoil.com) and accessorize with your nearest fancy hat.
When it's time to throw her hair up a bun, Markle's tresses are far more tamed, and her tight, low chignon is too perfect for even the most stunning hat to overshadow:
If you're going for a chic bun with not a flyaway in sight, lock in the look with Fekkai's Sheer Hold Hairspray ($20, fekkai.com).
Clearly, Markle's look over the years was much more nuanced than I original thought — she has not, in fact, always been a messy bun kinda girl. It is comforting to know that she never once walked away from embracing those freckles, though, since she really wouldn't be Meghan Markle without them.