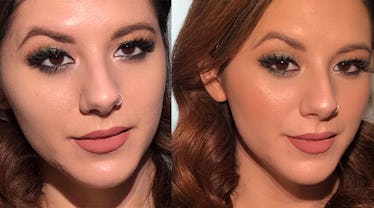 How To Highlight & Contour Your Specific Face, Because It's Not One-Size-Fits-All
Kim Carpluk
When you contour, do you occasionally end up with a muddy mess that looks like a toddler's finger-painting? Have you blended out the tiger stripes seemingly forever only to see them the second you step out of your house? If you're not sure how to highlight & contour your face, you are not alone, my friend. The how-to videos we watch are not one-size-fits-all, so it's not wonder that you might be ending up with a result far from the chiseled structure of your favorite YouTubers. With the right product for your skin type, texture, and color, plus the placement perfect for your unique bone structure, highlight and contour becomes easy as pie (just don't bake it, K?).
Highlight and contour can be scary. Even as a makeup artist, I've been stupefied by the thousands of videos on the topic. How do our favorite beauty gurus paint on thick patches of the stuff but somehow end up with a smooth and flawless finish? The key is lighting and editing. I can tell you from personal experience studio lights and cameras will eat up your makeup. To get makeup to show up on video, sometimes you have to apply product to a RuPaul-esque extent. If you were to do that IRL, you would look crazy-pants walking around.
So if you want an easy routine for nights out, or a little extra chisel for everyday, keep these key points in mind to highlight and contour like the museum-worthy Michelangelo sculpture you were always meant to be.
Choose The Right Product For You
With hundreds of highlight and contour products on the market, choosing the right one is daunting. There's always a little FOMO over investing in the wrong one, but if you keep all these things in mind, you're sure to find your soul mate cosmetic.
If you have dry skin, cream is generally better, and if you have oily skin, powder might be preferred. That's just science. However, you totally can use either as long as you prep and set your skin really well. Dry skin needs a strong moisturizer and a luminous foundation before applying powder, and oily skin just needs a great translucent setting powder to lock down creams for long wear.
Powder tends to be easier when you're first learning how to highlight and contour because creams can quickly turn in to a muddy mess if you're not blending properly. Powder is easier to blend out and fix in a pinch.
The one major benefit to cream is that, if you're blending it out properly, it looks more natural and skin-like. If you want a buildable product or a dramatic look, you might want to try powder. If you are going out for hours and hours, you can always use both. Double the trouble, double the fun (and staying power).
Choosing the right color for your skintone can also be difficult. Contour is meant to mimic shadow, which is generally cool in tone (hence why bronzer won't really get the job done). If you're looking for cream, I feel like the Fenty Beauty By Rihanna Match Stix Trios ($54, Sephora) really get it right. The undertones of the sticks in each shade range are perfect for the skin tone they're intended for. If you're more of a powder girl, then the Make Up For Ever Artist Face Color Highlight and Sculpt Powders ($23, Sephora) will be perfect for you. If you have a deeper skin tone, you might have had a difficult time finding the right contour color for you, which can be extremely frustrating. I often use Bobbi Brown Eyeshadow in Black Plum ($26, Bobbi Brown Cosmetics) on my models. It's a gorgeous contour color on deep skin.
Start With A Triangle Of Light
Of course, prep, prime, and even out your skin with foundation first. If you don't apply a little base (tinted moisturizer counts), highlight and contour might make the skin look more muddy and definitely won't blend out as easily.
Using a concealer that's one to two shades lighter than your skin tone, draw a triangle under each eye. This brighter color mimics the way that light falls at the center of the face under the eye area.
If your face is shorter (meaning the length is relatively the same as the width), you want to make your triangle a little bit longer. I have a round/heart shape face, so I make my triangle longer. I aim to end the triangle by the bottom of my nostril. If you have a long face (meaning your face is 1.5 times as long as it is wide), then you want to make your triangle a little bit shorter. Aim to end by the top of your nostril. If you have an oval face (meaning the length of your face is exactly 1.5 times the width), then follow where the light naturally falls on your face underneath your eye.
To blend, use a synthetic brush. If you want to keep the saturation, use little patting motions. If you want to get rid of hard lines or edges, use little buffing motions and small swipes to diffuse the color.
The triangle of light will naturally bring forward the center of your face, making it easier to determine the placement of the highlight and contour.
Highlight First
Highlight is like a white dress. When you wear it, you walk into a room and all eyes are on you (think Mariah Carey at most events). By putting on highlight first, you natural contours will come out by contrast.
Have you ever worn a white dress though? They show off everything, including the fifteen Oreos I had last night for dinner. Just like with a white dress, highlight will draw attention whether you like it or not, so don't highlight areas that you don't want to emphasize.
Highlight will also make things look bigger/longer. If you have a short forehead (like me), you might want to bring the highlight up a little higher on your forehead. If you have a longer forehead, keep the highlight closer to your brow bone. Same with the chin.
Sculpting is not about achieving one particular face shape. It's about bringing balance to the gorgeous face shape you've been given.
If you are using cream, use a synthetic brush to blend it out. If it's a small area, like the nose or undereye, use a small brush. If it's a bigger area, like the forehead, use a bigger brush. Just like with the triangle of light, use patting motions to keep the color saturated and circular motions to siffuse hard lines and edges.
If you're using powder, apply to the same places, but use a natural hair brush instead.
Whichever piece creates the most contrast will become the most important. On me, powder highlight is barely visible. I use it mostly to blur pores and to soften contour lines. For medium to deep skin, highlight is a bit more important because it creates the most contrast.
Then Contour
Contour is like a black dress. It will slim any areas you want to make smaller or de-emphasize.
Contouring the cheekbone is perhaps the most important part of contouring. You want to place the contour starting from the highpoint of the ear, going toward the outer corner of the mouth, stopping under the outer corner of the eye.
Contour along the jawline to emphasize or de-emphasize whatever you want. Contouring along the jawline can make the jaw much more angular, which I personally love and lean into a bit more. It can be great for rounder face shapes that want to give the chin more definition so it doesn't blend in to the neck.
If you have a longer forehead and you want to minimize, you can contour along the hairline. If you have a small forehead (like myself), you can contour the temples from the arch of the brow to the tail of the brow.
You can also apply a little contour to the sides of the nose bridge to help slim if you so desire. I'm addicted to it, but no one needs nose contour.
When blending, start at the perimeter of the face, where you want more saturation, and work inward.
Blending out the hollow of the cheek works a bit differently. You want to use Nike swoosh or ski jump like motions so the harsh line is softened and not emphasized.
If you are contouring your nose, make sure to blend directly on top of the lines. If you blend or or in, you run the risk of making the nose look bigger.
If you're using powder, again, use a natural brush. The placement and techniques do not change.
If you make a mistake, use your highlight as an eraser to take away intensity or adjust the placement.
When you're done blending, the highlight and contour shouldn't look like highlight and contour. It should just look like your bone structure is slightly different.
Use Illuminator Strategically
Put shiny highlighter (aka illuminator) on your cheek bones, nose, Cupid's bow, and under the brow arch. Do not put in on your forehead and chin. IRL it can look like sweat or oil. Not very glam.
Practice does make perfect, so don't worry if you don't nail it the first time. Just remember, makeup is its own eraser. There's a way to fix every mistake.