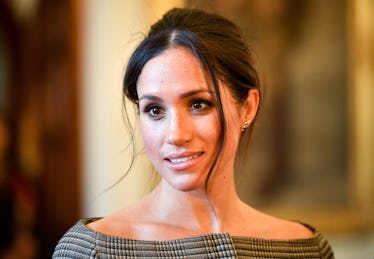 Meghan Markle Wore This Royal Protocol-Breaking Hairstyle Again & You'll Love Her Even More
WPA Pool/Getty Images Entertainment/Getty Images
When you think of Buckingham Palace-appropriate hairdos, what comes to mind? Slicked-back sleek topped with a tiara? Perfectly coiled curls à la Queen Elizabeth II herself? Photos of Meghan Markle at Cardiff Castle have just crushed my preconceived notions of what royal hair should look like. And to be honest? I am ALL about it.
This afternoon, Markle and her fiancé Prince Harry, who really needs no introduction, ventured to Wales, where they were greeted by excited crowds in the capital city of Cardiff. It was another stop meant to introduce Markle to the people of Great Britain prior to her wedding to Prince Harry, which will cement her status as a British royal. After greeting crowds outside, the couple ventured into Cardiff Castle, and later visited Star Hub, a community and leisure center within the city, to learn how it helps young people excel through sports.
For the occasion, Markle looked impossibly chic (as expected), in an understated ensemble. Featuring a Stella McCartney coat (the coat of my dreams!) and pants by Welsh brand Hiut Denim, she was dressed in black from head-to-toe, save a dark green bag. Whoever is styling the royal in training is absolutely nailing it, IMO.
Her hair, though, deserves a mention of its own. Markle arrived with her hair pulled back into a bun that had little wispies sticking out from it (gasp, I know!), while strands of hair had also been pulled out around her face. The effect was a slightly tousled messy bun, though it certainly didn't compare to the spaghetti-like monstrosities I used to intentionally sport in high school. (I would haphazardly scrunch my ponytail into a rat's nest, take a handful of bobby pins, and stab at it until it somewhat retained its shape. Not. Good.) But still, Markle's perfectly mussed hair is a far cry from what royals have previously stepped out in — but it's not the first time she's sported the style in recent months.
She also wore the style in Brixton earlier this month, and it seems that some people are not happy about her hair choices.
The word "sloppy" was thrown about on Twitter to describe the laid-back look.
Evidently, in wearing a messy bun, Markle is breaking royal protocol. "The royal family follows a strict protocol — right down to the hair on their heads. But Meghan Markle has been setting her own rules, especially when it comes to her fashion choices," reports People. "From forgoing stockings to carrying oversized purses, Meghan is going her own way — and on Tuesday, she sported a hairstyle that almost every woman can relate to: the messy bun."
This is precisely why I love Markle's bun so much. It's a style that we (or, at least, I) have all sported at least once in our lives, and it allows Markle to be relatable and accessible. It pulls down the wall between the royals and "regular" people and I can't help but to love her for it.
You know who else did just that through her fashion choices? Princess Diana. Eleri Lynn, who curated Kensington Palace's new exhibition, Diana: Her Fashion Story, told People, "She abandoned the royal protocol of wearing gloves because she liked to hold hands when visiting people or shake hands and have direct contact. She also stopped wearing hats because she said, 'You can't cuddle a child in a hat.'"
While Markle has a long way to go in regard to following in Princess Diana's footsteps (I, like the rest of the world, love her more than words), there's no denying that her laidback and kind demeanor resembles that of who would be her mother-in-law. As for whether or not Kate Middleton, who has only ever stepped out with perfect hair, approves of Markle's hair choices? We'll just have to wait and see, but something tells me Middleton will approve.