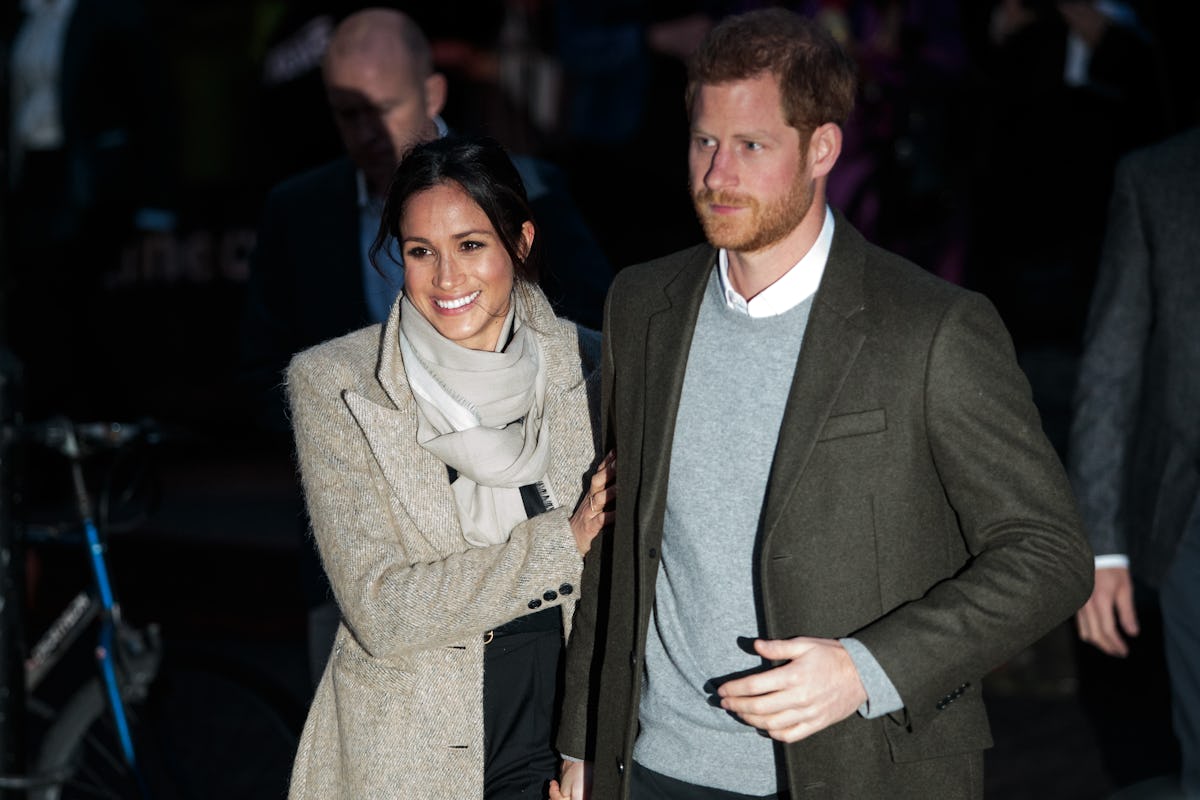 Meghan Markle Just Wore A Shockingly Affordable Sweater & You Can Still Buy It Yourself
Jack Taylor/Getty Images Entertainment/Getty Images
Since Prince Harry and a certain American beauty confirmed their engagement in late November, the world has been absolutely obsessed with them. Earlier today, the couple made their second public appearance together since the big announcement, but it was Meghan Markle's Marks & Spencer sweater that truly stole the spotlight.
Markle and Prince Harry visited youth-led radio station Reprezent 107.3FM in Brixton, where they met with volunteers and young people involved with running it. While the station plays a variety of musical styles, it also provides a platform for young people to showcase their artistic talents and also discuss social and cultural issues that are affecting them, hence the royal couple's visit.
For the occasion, Meghan kept it relatively sartorially simple, but naturally still looked like the chicest woman alive. Yes, she's the type of girl that could rock a potato sack with stylish ease. (The fact that she is drop dead gorgeous doesn't hurt her case at all, either.) Clad in neutrals from head to toe, she wore a tweed Smythe wool coat, which retails for $795 and is already sold out on Revolve and ShopBop; an alpaca scarf by Sentaler, which retails for $320 and is also sold out; and Burberry trousers, which I couldn't find the price of but likely none of us plebeians can afford, anyways.
Wool Blend Round Neck Bell Sleeve Jumper, $75, Marks and Spencer
Her Marks & Spencer Wool Blend Round Neck Bell Sleeve, however, is a totally different story. The bell sleeved "jumper," as the Brits say, is neither sold out nor outrageously priced; it can be purchased on the Marks & Spencer website for an easy $75.
Yes, that's right, you, too can dress like a royal, even if only one day per clean laundry cycle. I will take it! Made of a wool blend, it's guaranteed to be super warm, so for all you guys out there on the East Coast who are suffering through winter's worst, it might be an excellent post-holiday gift for yourself.
Markle's style has gained a ton of attention as of late, and not just because of her upcoming title change, either. She is legitimately chic, with a crisp, simple style that reminds me a bit of that of her character on Suits at times. It involves a lot of neutrals, super subtle prints (if any), midi length dresses, and pea/trench coats. It's sophisticated and tasteful and will undoubtedly fit in at Buckingham Palace. She even looks good without fail when she's snapped coming back from a workout with her yoga mat in hand, which happens often.
Last month, Markle stepped out in a Club Monaco dress and a hat that made major waves to attend a church service with Harry, the Queen, Prince William, Kate Middleton, and the rest of the royal family. The Philip Treacy creation was a warm brown hue, which was fitting considering the swirl of fabric attached to one side of it looked a bit like a shaved chocolate curl. As far as out-there hats and fascinators go (I am not a fan of them, thank god I have zero chance of ever marrying a royal), it was understated and chic, and topped of the rest of her look perfectly. (Her Chloé Pixie Suede Crossbody Bag is what my purse dreams are made of!)
Pixie Mini Leather/Suede Crossbody Bag, $990, Neiman Marcus
Until I can drop $1000 on a designer bag or trench of my own, I'll be sticking to one black bell sleeve purchase in particular. But you better believe I'll also be keeping my eye out for cheaper versions of what the impossibly cool future royal wears, because that woman has never had a bad style day in her entire adult life.
Watch over Middleton, your future sister-in-law just might steal your best-dressed Brit title.