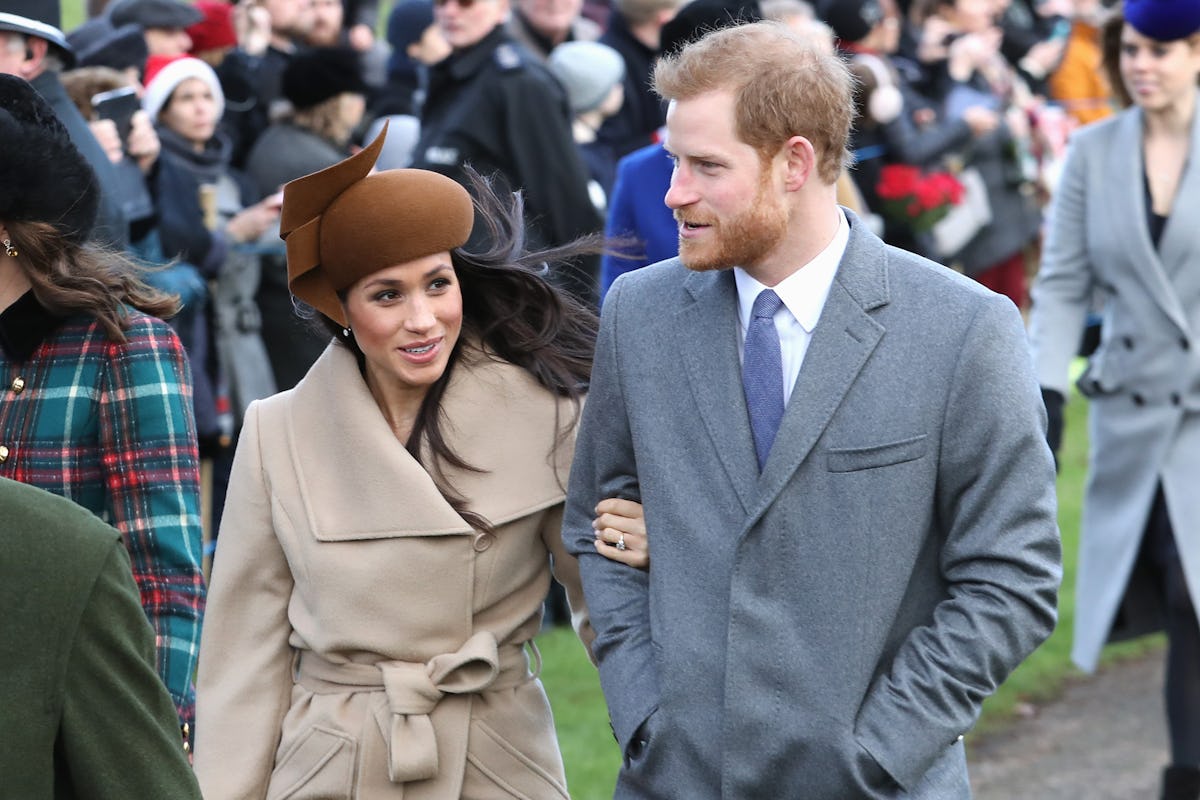 Meghan Markle Just Wore A Velvet Dress That You Can Actually Buy At The Mall
Chris Jackson/Getty Images Entertainment/Getty Images
If you think you stressed about what to wear for family time over the holidays, imagine having to dress for your future in-laws, which include a literal queen. Everyone has seen how Prince Harry's fiancée nailed the outerwear game, but Meghan Markle's Christmas dress, while less photographed, was just as chic, and surprisingly affordable.
Prince Harry and Markle's engagement has been something of a whirlwind and my head is still spinning. The duo capture my attention anytime they step outside their front door, and their engagement photos will make you believe in fairytales. The couple is getting married in a matter of months (my DVR is on standby for May 19), and breaking from royal tradition, Markle spent Christmas with Prince Harry's family. My beloved Kate Middleton wasn't even allowed to do so before marrying Prince William. Remember Middleton? She's the woman the world used to be obsessed with before Markle became the newest soon-to-be member of the British royal family. I still love you, Kate!
I love you too, though, Meghan. Which is why I'm here today writing about a dress you wore a week ago of which the world only slaw a sliver. Markle ceremoniously walked to church with Prince Harry and his family on Christmas Day and her look took the fashion world by storm. If you thought you already knew everything about her much-photographed outfit, though, think again, as there was something very special under Markle's coat.
To recap, Markle wore a $1,295 Sentaler camel coat, $798 Stuart Weitzman boots, a $1,490 Chloe bag, and a Philip Treacy hat that likely cost around $1,000. So far, that's a $4,583 outfit and it only includes Markle's outwear and accessories, not her actual clothing. And I don't even want to think about how much her earrings cost — probably more money than I've made in my adult life so far.
According to protocol, royals can't take off their coats in public, meaning the crowds don't always get to see the fabulous clothing underneath their equally fabulous coats. Markle is already learning how to give the people what they want while also following the queen's rules, however. Markle flashed a peak of her Christmas dress while walking to church and you will not believe who makes it: Club Monaco, a brand available at your local mall!
The brand was understandably bragging about the royal-to-be wearing one of the company's designs, and I'm just happy that the coat-covered mystery has been solved. I bet Markle looked phenomenal in the deep V, belted waist, and sumptuous fabric, and I would've loved to see it for myself.
Tay Dress ($298; clubmonaco.com)
Even more great news: the dress isn't yet sold out, and it's currently on sale! Through Jan. 15, the velvet stunner is 30 percent off in Club Monaco stores and online, meaning the dress can be all yours for just $209. If that's more than you typically spend on one item of clothing, think about the fact that a future royal wore this exact same dress. Considering the fact that every other item in Markle's outfit was at least $500 more than this dress, I'd say this is a steal. Take advantage of the fact that this may be the last time you can dress like Markle without having to sacrifice paying rent.
Vila Camel Belted Coat ($99; dorothyperkins.com)
If you're committed to getting the rest of Markle's look without having to file for bankruptcy, this tie-waist camel coat is just as good as the four-figure one that she wore.
Wild Diva Lounge Amaya Drawstring Over-The-Knee Boot ($35; nordstromrack.com)
These over-the-knee boots are almost an exact match for Markle's.
T-Shirt & Jeans Mini Ring Satchel ($40; jcpenney.com)
Markle's bag is a pretty unique design, but don't underestimate my online shopping prowess just yet. This lookalike purse will cost you only $40; that's $1,450 less than Markle's.
You don't have to break into your piggy bank just yet to be styling like Markle. How brilliant is that!