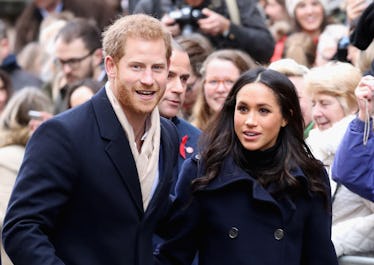 Prince Harry & Meghan Markle's Christmas Plans Are A Huge Break In Royal Tradition
Chris Jackson/Getty Images Entertainment/Getty Images
Now that Prince Harry and Meghan Markle are officially getting married, they've started incorporating each other into their family traditions. And with Christmas just around the corner, people are wondering if the new royal couple will be spending Christmas together, especially since the royal family has such longstanding Christmas traditions. But Prince Harry and Meghan Markle's Christmas plans are now set in stone, as a representative for Kensington Palace confirmed they will be spending Christmas together in the U.K. with the rest of the royal family! The representative said, "You can expect to see the Duke and Duchess of Cambridge, Prince Harry and Ms. Markle at Sandringham on Christmas Day."
This breaks tradition from typical royal family Christmas celebrations. As previously reported, it was rumored that Markle would be invited to spend the holiday with her future in-laws, but the family hadn't confirmed the news, so there was reason to doubt it would happen. And given the fact that Kate Middleton wasn't even invited to spend Christmas day with the royal family back in 2010 when she and Prince William were engaged, it's a surprise that the queen has allowed Prince Harry and Markle to break with tradition. In 2010, Middleton was invited to spend Boxing Day (the day after Christmas that's celebrated in the U.K.) with the royal family, but she spent Christmas itself with her own family. It wasn't until she and Prince William were married that they spent Christmas together with the rest of the royal family.
Prince Harry apparently asked Queen Elizabeth to make an exception so he and Markle could spend this Christmas together.
Markle is one of the first royal fiancés to be allowed to spend Christmas day with the family. According to ABC News, Mike Tindall, the husband of Zara Phillips (one of the queen's granddaughters), was not invited to spend Christmas with the family when they first got engaged, either. So, this is definitely a break from tradition, but a step in a positive direction!
One thing we can definitely expect to see before Prince Harry and Meghan Markle tie the knot on May 26, 2018, is the Meghan Markle biography, written by Andrew Morton.
Morton wrote multiple biographies about Princess Diana, both before and after her death, and he also wrote a biography about Prince William and Kate Middleton's relationship, so it seems fitting that he would write the book on Prince Harry's soon-to-be wife. In a tweet on Friday, Dec. 8, Morton said, "Excited to be writing #MeghanMarkle's story. She has bags of charisma. A royal star who will have tremendous impact on royal family and wider world." The book will reportedly be titled Meghan: A Hollywood Princess and will be published in April 2018. Morton told Bookseller,
I was a fan of Meghan's long before she met Prince Harry. She has star quality, what some have called 'the Markle Sparkle.' Confident, groomed and camera ready, she is a dramatic contrast to the blushing, coy royal brides of recent history. The warmth and affection Meghan and Harry displayed during their engagement interview is light years away from the stilted 'whatever love means' conversation with Prince Charles and Lady Diana Spencer in 1981. Meghan is an exciting and genuinely charismatic addition to the royal family - she makes the House of Windsor seem relevant again. Hers is a fascinating story and I can't wait to tell it.
Prince Charles was the first to announce the news of Prince Harry and Meghan Markle's engagement on Monday, Nov. 27.
The statement announcing the news said,
His Royal Highness The Prince of Wales is delighted to announce the engagement of Prince Harry to Ms. Meghan Markle. The wedding will take place in Spring 2018. Further details about the wedding day will be announced in due course. His Royal Highness and Ms. Markle became engaged in London earlier this month. Prince Harry has informed Her Majesty The Queen and other close members of his family. Prince Harry has also sought and received the blessing of Ms. Markle's parents. The couple will live in Nottingham Cottage at Kensington Palace.
Hey, Royal Family, all I want for Christmas is for you to release photos of Meghan Markle playing with the Queen's corgis. Please make it happen. Thanks!