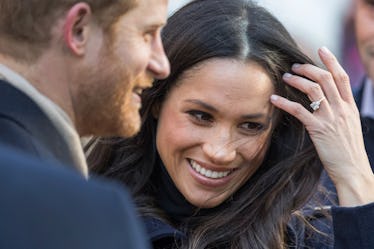 Meghan Markle Might Spend Christmas With The Royal Family, & It's A Big Change
Christopher Furlong/Getty Images Entertainment/Getty Images
As anyone in a long term relationship probably already knows, the holidays are a time to stress over negotiations about whose family you will be seeing, how long you're staying, and whether or not you ought to bring the dog. So it gets complicated, is what I'm saying. And that's in a regular, non-royal family — so imagine how much harder it must be right now to figure out where Prince Harry and Meghan Markle will spend Christmas. This year, at least, it looks like it'll be with the Queen.
In a break with custom, the newly engaged couple is predicted to spend the holiday with Prince Harry's (royal) family, according to The Sunday Times. Markle, an actress best known for the TV show Suits, will reportedly be the first royal fiancée to join the Queen and fam to open presents on Christmas Eve, before she officially becomes part of the Royal Family. The couple is supposedly planning to stay at Sandringham Estate from Christmas Eve through the day after Christmas, after which they'll travel to join Markle's mother in California.
Traditionally, a royal fiancée doesn't get to hang up stockings with the Queen until the couple have actually tied the knot — The Sunday Times notes that back in 2010, once Prince William and Kate Middleton had officially put a ring on it but before they were actually married, Middleton spent the holiday with her own family in Berkshire. Supposedly, Prince Harry asked his grandma to make an exception this time.
It probably helped that by all accounts, the Royal Family is enthusiastic about Markle. A source told The Sunday Times that the royals have "fully welcomed Meghan into the fold," and Markle is known to have made a good impression on the Queen's corgis. "The corgis took to her straight away," Prince Harry said of his fiancée. "I've spent the last 33 years being barked at — this one walks in, absolutely nothing." I mean, when the dogs like you, it's hard for the dog owner not to. A pocket full of kibble will get you a long way in family politics.
But of course, Christmas with the royals isn't just a family affair. The family traditionally gathers for a Christmas Eve tea in the afternoon while the kids finish decorating the tree, before presents and a formal, black-tie dinner. On Christmas morning the family attends church and then watches the Queen's Christmas Day broadcast to the nation in the afternoon. Kind of a far cry from watching How The Grinch Stole Christmas in your footie pajamas, but hey, each family has its own traditions.
But of course, Markle is already proving to be something of a tradition-bender for the royals. Besides her unprecedented Christmas visit, Markle is also the first multi-racial woman to marry into the Royal Family, and the first American (and divorcée) to do so without totally upheaving the family. In 1937, King Edward VIII abdicated his throne in order to marry the twice-divorced American socialite Wallis Simpson.
But despite shaking up some things, in other ways Markle looks like she's heading towards being a pretty traditional royal. The couple revealed their engagement via a tweet from Clarence House, the official residence of Prince Harry's father, Prince Charles — the same way as Harry's older brother Prince William did. "His Royal Highness The Prince of Wales is delighted to announce the engagement of Prince Harry to Ms. Meghan Markle," the Nov. 27 announcement read.
And Markle is also following tradition, more or less, as regards her post-marriage career. She said after their engagement was announced that she planned to quit acting and leave her role on Suits in order to focus more on her humanitarian work and marriage. Markle, who's worked for women's rights with UN Women and traveled to India and Rwanda as part of humanitarian advocacy, said in an interview that her marriage would be a "new chapter" for her. "I've been working on [Suits] for seven years," she said. "I've ticked this box, and I feel very proud of the work I've done there, and now it's time to work with [Harry] as a team."
A humanitarian-minded, glamorous, passionate women's rights advocate as a new member of the royal family? What a Christmas gift for all of us.