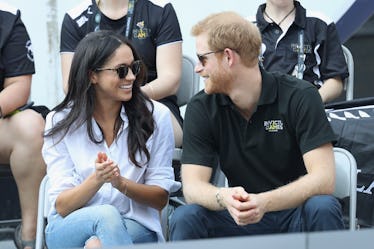 Prince Harry's Quote About Meghan Markle Proves She'll Fit Right In With The Royals
Chris Jackson/Getty Images Entertainment/Getty Images
It's not that easy to become a member of the British Royal Family if you're not born into it. First off, you have to find yourself in a position to meet a royal — which is kind of a one in a million chance. Well, Meghan Markle has found herself in that rare position, and now the official announcement of her engagement to Prince Harry has everyone ecstatic. But if anyone's worried about her fitting in with the high-profile family, have no fear. Because Prince Harry says Meghan Markle won over the Queen's corgis immediately, so zero worries in that department.
Markle and Prince Harry made their formal engagement announcement on the morning of Nov. 27 in an official statement released by Clarence House. The statement reads,
His Royal Highness The Prince of Wales is delighted to announce the engagement of Prince Harry to Ms. Meghan Markle. The wedding will take place in Spring 2018. Further details about the wedding day will be announced in due course. His Royal Highness and Ms. Markle became engaged in London earlier this month.
Following the announcement, the Suits actress and and her groom-to-be gave their first interview as an engaged couple to the BBC Network. And among the many sweet tidbits the public learned about their relationship and the romantic proposal, we also learned that Markle was quick to win over some very important members of the Royal Family — Her Royal Majesty Queen Elizabeth II's beloved corgis. "The corgis took to her straight away," Prince Harry said, according to People, "I've spent the last 33 years being barked at — this one walks in, absolutely nothing." Considering just how much the Queen loves her corgis, this is definitely a sign that Markle is going to fit right in at Buckingham Palace.
Markle is no stranger to animals, either. She has two dogs of her own, both of which are rescues. She's even already brought her five-year-old labrador-shepherd mix, Guy, overseas to live with her in the UK. According to The Telegraph, her other dog, a six-year-old beagle named Bogart, has stayed behind in Toronto and is being taken care of by close friends.
The morning of Prince Harry and Markle's engagement announcement was a crazy media spectacle, but it was also one which was most definitely months in the making. There's a couple of steps that go into making a royal engagement official, all of which happened prior to the morning of Nov. 27, according to Australian Vogue. First Prince Harry needed to seek the approval of the Queen, which was confirmed in the announcement from Clarence House. We also learned in that statement that he went the traditional route and also asked for permission from Markle's parents, who of course gave their blessing.
Next of course was the proposal itself. And the way Prince Harry popped the question wasn't nearly as grand of a gesture as one might have thought it would be. In the same interview with the BBC, the prince said that he asked for Markle's hand in their cottage while trying to roast a chicken. "Trying to roast a chicken and it just — just an amazing surprise," the future royal said. "It was so sweet and natural and very romantic.
After they've informed their families of the engagement, the royal couple then customarily informs the Prime Minister of Britain before making the announcement public. The couple also traditionally informs the media (namely the BBC network, who conduct the first official interview) ahead of time so that they can prepare news reels and have royal photographers on-hand to snap the first official pictures of the newly engaged couple.
What's even more exciting than the engagement itself is how little we need to wait for the royal wedding! According to the announcement, the event will take place in spring of 2018. Ugh, is it too soon to set my DVR up? I absolutely cannot wait.