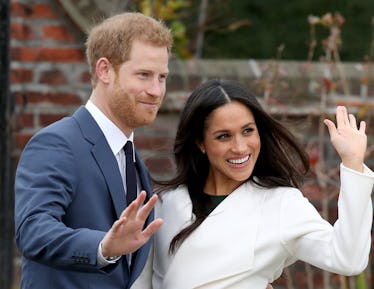 Meghan Markle Is The First American To Be Engaged To A British Royal & We Couldn't Be Happier
Chris Jackson/Getty Images Entertainment/Getty Images
In the early morning hours of Nov. 27, the royal family killed all of my dreams and announced Prince Harry's engagement to Meghan Markle. This engagement is a big deal for more than the obvious excitement factor of, you know, a prince getting married. For one, Prince Harry and Meghan Markle have kept their relationship so private that it's been borderline cruel to the rest of us. But the royal engagement is also groundbreaking on a historical level: Megan Markle is the first American to marry into the royal family since 1937.
Markle and the Prince first met through friends in 2016 and have been dating ever since. When they first stepped out as a couple, it was a major surprise, given Markle's profession (she's an actress for the hit TV show Suits), not to mention her nationality, ethnicity, and prior marriage. To say that Markle isn't your average candidate to be the next royal wife is the understatement of the century — which is why this is all so awesome.
Since it's 2017, and even the royal family is on the social media train, the engagement was officially announced via the Kensington Palace Twitter account.
The engagement announcement for Markle and Prince Harry was short, sweet, and to the point.
Although it's easy to feel nothing but straight-up jealousy when you find out a commoner is marrying a prince (ahem, Kate Middleton, you haunted my dreams for three years), you can't help but root for Meghan Markle. She literally defied all of the odds across every spectrum.
Markle, an actress, is a biracial, American-born woman who has been married before and was raised Catholic. All of these things would have been no-no's for a royal engagement in the past, which is why this one in particular is so stellar: It represents a step toward modernity and progressive thought from a massively influential family, and to say the least, we're very much here for it.
Prince Harry and Markle may have already been engaged for at least a month, according to BBC, since his proposal was done in secret. When a reporter asked when he knew he was in love with Markle during their first public appearance as an engaged couple, he replied, "I knew [she was the one] from the very first time we met." Cue millions of hearts swooning (and possibly breaking) across every time zone, latitude, and longitude.
According to The Irish Times, Markle is the first American-born person to marry into the royal family since 1937, when the Duke of Windsor married Wallis Simpson, an American socialite.
But the Duke — and former King Edward VIII — had to abdicate the throne, since marrying an American wasn't allowed, which shows just how much has changed in the last several decades. Prince Harry, on the other hand, was given explicit permission and the full support of the royal family to propose to Markle, according to the public statement given by Kensington Palace.
But the firsts don't stop there. The 36-year-old actress has also been married before (to producer Trevor Engelson, who must be feeling some serious emotions this week), and she's biracial, a groundbreaking first for the royal family. With an African-American mother and a Caucasian father, Markle experienced racial discrimination and cyber bullying at the onset of her relationship with the Prince.
Prince Harry even had to issue a public statement asking people to stop bullying Markle.
Although people usually tend to freak out about royal weddings in any context, it's nice to see people freaking out about such a modern relationship, and to see the royal family fully supporting it, as well.
Of course, one of the most essential questions of any royal engagement is, superficially enough, about the proposal itself. The prince kept quiet about how he proposed, but we do know that the center diamond is reportedly from Botswana, where Markle and Harry have spent time together in the last year. The two flanking diamonds are from the late Princess Diana's private collection.
Markle's ring will definitely hold up in comparison to Middleton's iconic ring. ‌
Seriously, how can you not relate to this girl? She's the literal embodiment of the girl next door — if, you know, the girl next door was a successful actress on a hit TV show who's poised to officially join the royal family in the spring of 2018.
Either way, I'm choosing to push through the pain of my heartbreak over Harry and be happy for the couple. Having a modern couple (in every sense of the word) exist in such a public and traditionally conservative royal family can only ever be a good thing. And honestly, can you even imagine how cute their babies will be?