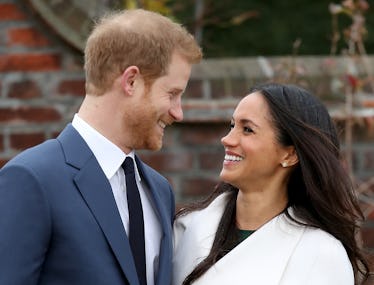 Meghan Markle Says She'll Retire From Acting, Because Being A Royal Is Kind Of Major
Chris Jackson/Getty Images Entertainment/Getty Images
On Monday, Nov. 27, the world collectively freaked out when Prince Harry and Meghan Markle announced their royal engagement. Even though it was obvious that the prince would be popping the question sometime soon, it's incredibly exciting to know that we'll have a second royal wedding in just a couple of months! But what does this all mean for Markle and her career? Will Meghan Markle quit acting in order to become a member of the Royal Family?
The short answer is yes, but Markle is thinking of this engagement and her future life as a royal in an entirely different light. It was reported earlier this month that the upcoming Season 7 of Suits will be Markle's last, to the disappointment of fans. But it wasn't until she became engaged that it became clear that she's in fact retiring as an actress.
But it doesn't look like Markle is all that upset about it. According to E! News, the actress said that she doesn't feel like she's really giving something up. "I just see it as a change," the actress said in an interview with Sky News, "It's a new chapter, right? And also, keep in mind, I've been working on [Suits] for seven years... I've ticked this box, and I feel very proud of the work I've done there, and now it's time to work with [Harry] as a team."
So what will Markle's role be now that she's moving on from her acting career? Well, she wasn't just an actress while working on Suits in Toronto. Markle is also an established philanthropist who's worked as a United Nations ambassador. She's visited nations such as India and Rwanda, and was honored for her humanitarian work in the April 2017 issue of Vanity Fair UK alongside fellow actress Emma Watson and Canadian Prime Minister Justin Trudeau.
The plan for Markle is to continue the charity work that she's already done and become a full time philanthropist. According to a report from Vanity Fair, once Markle moved to London (which happened just a few short days ago) she plans to shift her focus solely on her charity work. Although Prince Harry works with the Royal Foundation, which helps serve veterans and disadvantaged young people, Markle reportedly wants to set up her own foundation that would help aid vulnerable women in developing nations. And once Markle is officially a member of the Royal Family, she'll definitely have the platform to do some amazing charitable work.
Acting isn't the only thing that Markle has given up in order to marry Prince Harry. In April 2017, the actress officially shut down her blog, The Tig, which she had been working on for three years. Although Markle never explicitly stated the reason for the site's closure, it was speculated that the end of The Tig had something to do with her royal beau. She wrote in her farewell statement on the site,
After close to three beautiful years on this adventure with you, it's time to say goodbye to The Tig. What began as a passion project (my little engine that could) evolved into an amazing community of inspiration, support, fun and frivolity.
It's pretty safe to say that she'll continue to bring about that same positive energy that she described in her farewell post in her philanthropic work as the newest member of the Royal Family.
So at the end of the day, the loss of Meghan Markle's old life doesn't seem like it's much of a loss at all. I for one am so incredibly excited to see what she'll do as the newest member of the Royal Family.