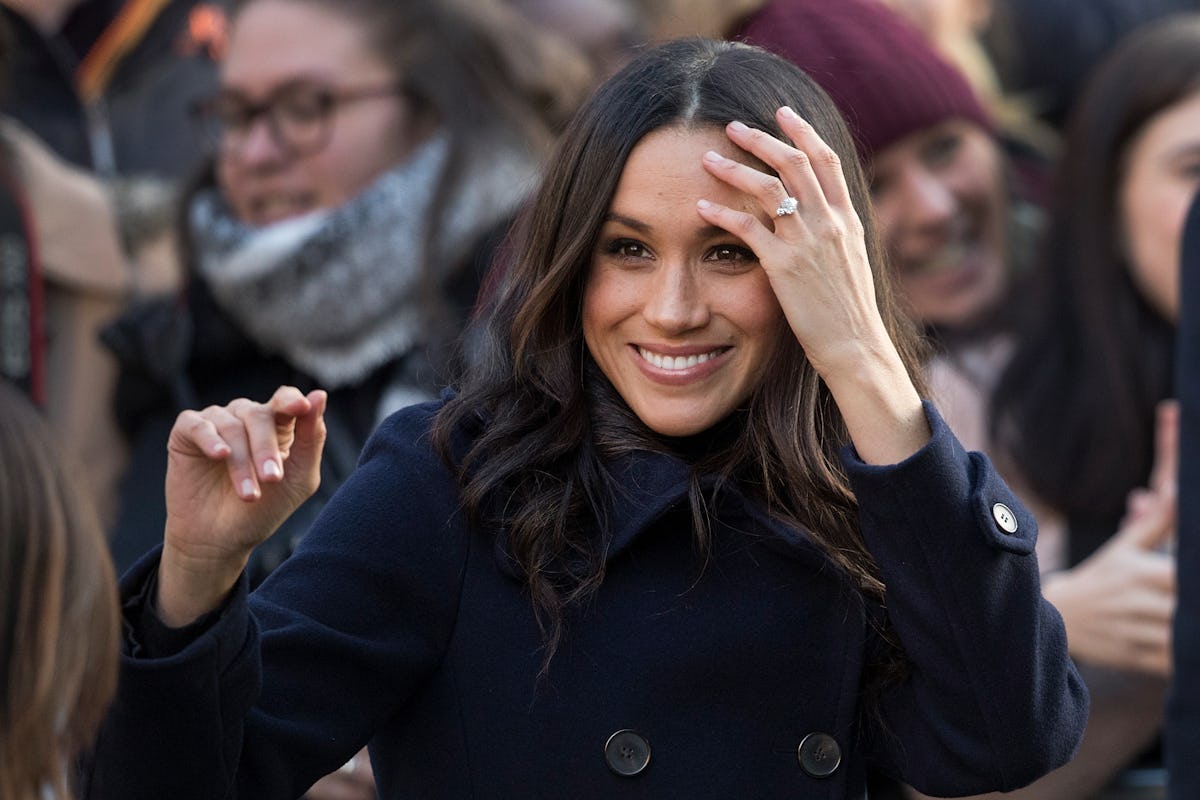 Someone Is Already Writing A Book About Meghan Markle & TBH, I'd Read It
Christopher Furlong/Getty Images Entertainment/Getty Images
People are wasting no time when it comes to documenting Meghan Markle's new life as a member of the royal family. There's already a book about Meghan Markle by Andrew Morton on the way. If you don't know who Andrew Morton is, well, he's none other than the man who wrote Princess Diana's biography (multiple Diana biographies, that is). Yup, the man who wrote the book on Princess Diana is now writing the book on her youngest son's soon-to-be wife. I'm not crying, you're crying! Who are we kidding? We're all crying. Morton himself confirmed he's working on a Markle biography in a tweet on Friday, Dec. 8. He said,
Excited to be writing #MeghanMarkle's story. She has bags of charisma. A royal star who will have tremendous impact on royal family and wider world.
In the future, I would like everyone to describe me as having "bags of charisma" in all contexts. Got it? OK. Moving on! Morton's Princess Diana biography, Diana: Her True Story, entered the world in 1993. I, coincidentally, also entered the world in 1993. Now that we've covered my age, back to Meghan Markle! The Bookseller reports the biography will be titled Meghan: A Hollywood Princess and will be released on April 19, 2018, just weeks before Prince Harry and Markle tie the knot on May 26, 2018.
Morton told Bookseller the biography will be "a comprehensive, unparalleled look at her life prior to the royal engagement." He added,
I was a fan of Meghan's long before she met Prince Harry. She has star quality, what some have called 'the Markle Sparkle.' Confident, groomed and camera ready, she is a dramatic contrast to the blushing, coy royal brides of recent history. The warmth and affection Meghan and Harry displayed during their engagement interview is light years away from the stilted 'whatever love means' conversation with Prince Charles and Lady Diana Spencer in 1981. Meghan is an exciting and genuinely charismatic addition to the royal family - she makes the House of Windsor seem relevant again. Hers is a fascinating story and I can't wait to tell it.
Other books Morton has written include Diana: Her New Life, Diana: In Pursuit of Love, WILLIAM & CATHERINE: Their Story (about Prince William and Kate Middleton's relationship), Tom Cruise: An Unauthorized Biography, Monica's Story (a book about Monica Lewinsky), and more. The guy likes to profile celebrities, especially those of the royal kind. So we can sure as hell bet this book is going to be good and full of that #greatcontent.
It read,
His Royal Highness The Prince of Wales is delighted to announce the engagement of Prince Harry to Ms. Meghan Markle. The wedding will take place in Spring 2018. Further details about the wedding day will be announced in due course. His Royal Highness and Ms. Markle became engaged in London earlier this month. Prince Harry has informed Her Majesty The Queen and other close members of his family. Prince Harry has also sought and received the blessing of Ms. Markle's parents. The couple will live in Nottingham Cottage at Kensington Palace.
With Markle by his side in the interview, he said,
Oh, they'd be thick as thieves, without question, I think she would be over the moon, jumping up and down, you know so excited for me, but then, as I said, would have probably been best friends - best friends with Meghan. So no it's - you know it is days like today when I really miss having her around and miss being able to share the happy news. But you know with the ring and with everything else that's going on I'm sure she's…
Markle chimed in, finishing his sentence by saying, "...she's with us." UGH. MY HEART.