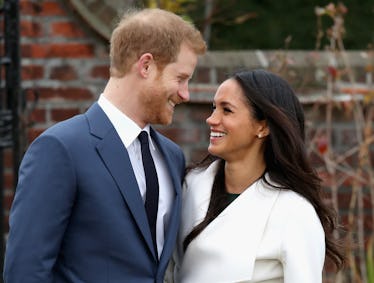 Prince Harry & Meghan Markle Released New Engagement Photos & They're Gorgeous
Chris Jackson/Getty Images Entertainment/Getty Images
If you thought we had seen the last of Meghan Markle and Prince Harry's engagement photos, think again! Kensington Palace just tweeted new photos, and Prince Harry and Meghan Markle's engagement photos will have you feeling emotional real quick. Kensington Palace's Twitter account shared two separate photos that were taken at Frogmore House in Windsor earlier this week, according to the tweet. The tweets read, "Prince Harry and Ms. Meghan Markle have chosen to release official photographs to mark their engagement. The photographs were taken by @alexilubo earlier this week at Frogmore House, Windsor." The photographer's name is Alexi Lubomirsky. He's a fashion photographer and apparently a very good one at that.
Seriously, these are the most beautiful freaking photos I've ever seen in my life. How do these two do it?! How do they sit on front porch in a clearly very posed position and not look awkward?! How did they get the sunlight just right?! My mom tries to get me and my sisters to pose on our front porch for pics sometimes, and I literally ruin it every time with my awkwardness. And don't even get me started on the black-and-white photo. Do not.
First of all, Meghan, love the dress. 10/10.
Second of all, DID HARRY WRAP MEGHAN IN HIS COAT IN THIS ONE?! I'm done.
I AM GETTING VERY EMOTIONAL.
The photographer posted the same photos on his Instagram. His caption for both of the photos read,
A huge thank you to His Royal Highness Prince Harry and Ms Markle, for allowing me to take their official engagement portraits. Not only was it an incredible honour, but also an immense privilege to be invited to share and be a witness to this young couple's love for each other. I cannot help but smile when I look at the photos that we took. @kensingtonroyal
Uh, yeah. I can't help but smile, either. I also can't help but freaking sob.
Kensington Palace also shared a candid photo of the couple from the shoot.
Fans on Twitter are swooning.
On Wednesday, Dec. 20, Prince Harry and Meghan Markle were seen arriving at Queen Elizabeth's annual Christmas lunch. Prince William and Kate Middleton were there too, so it was basically a double date. Well, not really... it's more of a family reunion if anything. The entire royal family heads over to Buckingham Palace for this lunch every year. That includes all of Prince Charles' siblings and their extended families, so safe to say it was a full house over at Queen Elizabeth and Prince Philip's.
The royal family will be spending Christmas in Sandringham like they do every year, and this year, Meghan Markle has been invited to come along. That's a huge break from tradition, as fiancés of royals usually aren't invited to spend Christmas with the family until they're actual spouses. Kate Middleton wasn't even invited to spend Christmas with Prince William and the royal family back when they got engaged in 2010, but she was invited to Boxing Day (the day after Christmas that's celebrated in the UK).
It's a big deal that Markle has been invited, as it further proves that the family is becoming increasingly progressive and lenient with its traditions. In the past, a royal was not allowed to marry someone who had been divorced before. (If you watch The Crown on Netflix, you know how big of a thing that used to be in the early years of Queen Elizabeth's reign.) Markle has been married once before, so the fact that she's being welcomed with open arms is a great sign for things to come.
Kensington Palace announced the couple will get married on May 19, 2018, at St. George's Chapel at Windsor Castle. That's less than six months away! After these stunning engagement photos, I for one can't freaking wait for this wedding. BRING ON THE FASCINATOR HATS!