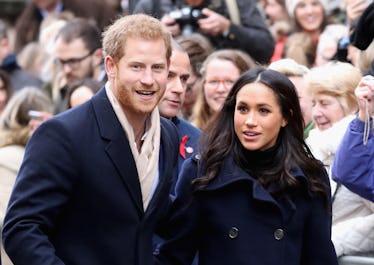 Prince Harry & Meghan Markle Finally Announced Their Wedding Date & We Can't Wait
Chris Jackson/Getty Images Entertainment/Getty Images
Can you hear the bells? The most anticipated nuptials of the year have finally been scheduled. That's right — Kensington Palace has announced that Prince Harry and Meghan Markle set a wedding date! And it's kind of soon, you guys!
The couple will tie the knot on May 19, 2018, at St. George's Chapel at Windsor Castle. That's only FIVE months away and I, for one, couldn't be more excited! Just let me know when to start checking my mailbox for the official invite! Or at least promise to televise the ceremony. Pretty please with a cherry on top?
The prince and the former Suits star announced their engagement back on Nov. 27, after Harry proposed to Meghan earlier that month upon scoring his parents' blessing.
"Just a cozy night, it was, what were we doing, just roasting chicken," Markle told the BBC during the couple's joint engagement interview at the time. "It was an amazing surprise. It was so sweet and natural. Very romantic. He got on one knee."
Aww — just sitting around roasting chicken! They're just like us! Except for the fact that like Lorde, we'll never be royals.
"I had the ring in my hand and I was like, 'Can I give you the ring now?'," the ginger prince explained during the same interview. "And she said, 'Oh yes, the ring!'"
Oh yes, THE RING!
The rock, if you haven't seen it yet, is STUNNING. Harry designed it himself, and it features three diamonds — one large stone in the center flanked by two smaller stones on the sides from Princess Diana's personal collection. During their engagement interview, Harry said he included the smaller diamonds so that his mother could be with them "on this crazy journey together."
Is he just the perfect male specimen or what?!
So now that we have both a date and a ring, there is just one other burning question we need an answer to: Who will be designing Markle's wedding gown?
Here's a theory: Since Meghan and Prince Harry were reportedly set up by their mutual friend, fashion designer Misha Nonoo, perhaps the pair will have her to dream up the royal creation?
Seems pretty fitting if you ask me, given Harry's propensity towards sentimentality.
Oh and if you're worried about the royal wedding interfering with the birth of Prince William and Kate Middleton's third child, fear not. The baby is scheduled to arrive in April 2018, which means the event will fall after Kate's due date. Phew!
The wedding will interfere with something else, though — the FA Cup Finals. Wembley is set to host the final of England's leading cup competition on the same day, and football fans are currently freaking out about it over on Twitter:
You have to admit, he does have a point!
And much like the royal wedding itself, it's pretty much understood that the FA Cup Final date is set in stone. The FA seemed pretty happy to hear the big news, however, and has graciously released the following statement:
Everyone at the FA is delighted for HRH Prince Harry and Meghan Markle with the announcment of their wedding at Windsor Castle next year. Saturday 19 May promises to be a wonderful day with suck a special royal occassion being followed by English football's showpiece evnt, the Emirates FA Final Cup at Wembley Stadium. With millions coming together to watch both events at home and around the world, it will be a day to celebrate.
Looks like all's well that end's well. Here's to Meghan and Harry — and to a lifetime of love, laughter and roasted chicken!