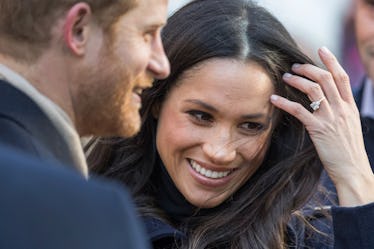 Meghan Markle & Prince Harry's Double Date With Prince William & Kate Middleton Is So Cute
Christopher Furlong/Getty Images Entertainment/Getty Images
The holidays are always a good time for newly betrothed couples to get to know their future relatives. And on Dec. 20, Meghan Markle did just that and then some when she joined her royal fiancé — and, you know, around 50 members of his extended family — at Buckingham Palace for the Queen's annual pre-Christmas lunch event. Every year, the Queen hosts a festive holiday meal for the fam before leaving to spend Christmas break at her private Sandringham estate. And this time around, it was a royal double date for Meghan Markle and Prince Harry, who joined Prince William and Kate Middleton at the palace, as well as Prince Charles and Camilla, Duchess of Cornwall, Princess Eugenie, Princess Beatrice, Zara, and Mike Tindall.
That doesn't sound intimidating at all!
Of course, it's already been confirmed that the former Suits star will be spending Christmas in the UK with Prince Harry and the rest of the royal crew at Sandringham this year.
"You can expect to see The Duke and Duchess of Cambridge, Prince Harry, and Ms. Markle at Sandringham on Christmas Day," Kensington Palace said in a statement last week.
This is huge, since the actress will be the first royal fiancée to be allowed to spend Christmas day with the family, and her appearance at the Queen's lunch is just another sign of how smoothly her acceptance into the monarchy is going prior to the wedding.
The couple was photographed arriving at the palace, with Markle riding shotgun and Harry at the wheel of his black Land Rover Discovery.
The Duke of Cambridge also headed over to Buckingham Palace in the driver's seat of his Range Rover, with the Duchess of Cambridge next to him, and their children — Prince George and Princess Charlotte — and nanny in the back.
Autumn Phillips, Sophie, and Louise were also spotted heading inside, so look's like the gang's all here!
What do you think went down at this lunch, anyway? Did the kids play Twister and decorate gingerbread houses or something while the adults got drunk on spiked egg nog and had a royal Secret Santa gift exchange? Did Charles put on a big red suit and surprise the kids by shimmying down the palace chimney?
Man, would I have loved to be a fly on the wall during that escapade!
From the pics we've seen on Twitter so far, I think it's pretty clear the royals weren't rocking matching footie pajamas. So what did the bride-to-be wear for such a momentous occasion? According to the Telegraph, her dress — just the tiniest bit visible from inside the car — is the Nightshade Midi from Self Portrait's AW17 collection, and features a bodice made from guipure lace with a raised black collar and an A-line skirt.
You can see a little more of it here:
But don't bother trying to buy it because, alas, it's already all sold out.
You can still cop those sparkling, diamond snowflake earrings, however, if you're so inclined. They're from Canadian jeweler Maison Birks, and they'll set you back a cool $5,995.
The couple will be married in just five months on May 19, 2018, at St. George's Chapel at Windsor Castle, in what is sure to be one of the most exciting events of the spring.
Their engagement was announced on Nov. 27, and a few days later, the proud prince introduced his bride-to-be to the nation. Now she's already blending in like a champ! The only questions fans apparently have left is: How long until she gets her own Funko doll?
Fingers crossed for sooner rather than later.