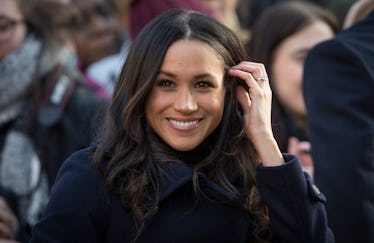 Meghan Markle Just Wore This Shocking Hairstyle For A Royal Appearance & She's All Of Us
Christopher Furlong/Getty Images Entertainment/Getty Images
Meghan Markle isn't an official royal yet but she's already living the life with her fiancé, Prince Harry. The couple just made their first official appearance of the year together, and when I saw the photos of Meghan Markle's radio show appearance, I fell even more in love with the future noble. Why, you ask? Because she's rocking the quintessential DGAF hairstyle — the messy bun — on royal duties. Meghan, you are me.
I always have at least one hair band on my wrist, just in case a prince comes to whisk me away and do a last minute royal appearance with him (you know, fairly realistic circumstances). It also comes in handy when I just can't. Everyone has those days when no matter what you try and do to your hair, it ends up a lost cause and the best option is to hide it away in a messy bun. It's the unofficial hairstyle of a hungover Sunday, amiright? Well, guess who else seems to have days like that: None other than future nobility, Meghan Markle.
Prince Harry's fiancée accompanied him on a royal visit to a radio station in an area of South London called Brixton, to learn how the station, Reprezent 107.3FM, is having a positive affect on the local youth. That's all well and good, but I'm still distracted by Markle's messy bun. Her soon-to-be sister-in-law, Kate Middleton, is known for her sleek blowouts, although Middleton did just debut a new hairstyle, but Markle is taking a different, more relaxed approach. Chances are, you've seen it before on your very own head.
I get annoyed when pieces of my hair fall in my face, but Markle looks like those face-framing tendrils were her plan all along.
It's like angels placed those strands of hair across her face, and cherubs designed those perfect whisps of hair sticking out of her bun.
Yes, Meghan, you look fabulous and I hope you know it. And that gorgeous ring kills me every time.
Markle's outfit was also on fleek. She wore the Brando Coat from Smythe in Camel ($795) which is already sold out — either Markle bought the coat a while ago the Meghan Markle effect is real. She stayed warm with a matching scarf from Jigsaw, and a bell-sleeve sweater from Marks & Spencer ($75). Markle also wore British brand Burberry's Wide-Leg Wool Tailored Trousers ($650), and a pair of simple black pumps.
While Markle probably had hoards of royal hairstylists help her with her look, I achieve a (sort of) similar look by rolling out of bed and taming my wild mane in an unintentional but unavoidably messy bun. There's thankfully an intermediate way to get Markle's hair in it's low-key unpolished state: texturizing spray. Markle relies on the cult-favorite Oribe Dry Texturizing Spray ($22; nordstrom.com), but you can also score the same effects for less.
L'Oréal Paris Advanced Hairstyle Boost It Air-Blown Texture Mist ($5; lorealparisusa.com)
If you need a little help achieving Markle's effortless natural hair style, this texturizing spray will thicken up your hair if it's on the thinner side, or provide some extra grip if it's voluminous enough on its own. Adding texture to your hair helps any style, particularly a messy bun, stay in place.
Dove Refresh + Care Volume & Fullness Dry Shampoo ($3; target.com)
You know that old saying, diamonds are a girl's best friend? It's wrong, dry shampoo is a girl's best friend. It does double duty for a messy bun hair style because it absorbs your hair's grease (showering is just too much sometimes), and in turn gives it more texture and volume. It's a recipe for a Markle-worthy bun.
Bed Head Hard Head Hairspray ($12; jet.com)
Hairspray is the finishing touch for this, or any, hairstyle. Bed Head's hairspray works well for a messy updo (plus the name is spot on) because it will hold your bun all day long without feeling crunchy or sticky.
Twitter was also here for Meghan's relatable AF hairstyle.
Less stuffy hair FTW.
Relatable AF.
Brush, bye.
Pulling a Meghan, I love it. Mums everywhere will have to back off when they see that messy bun is a royal-approved style.