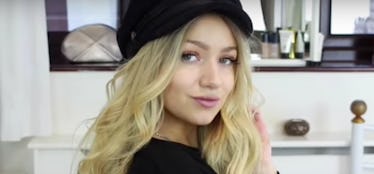 6 Lazy Girl Hairstyles To Try This Winter, Because It's Too Cold To Be Extra
If you haven't noticed, winter is officially here. The first day of winter has come and gone (it graced us with its presence on Thursday, Dec. 21), and now we've reached that dreary, post-holiday portion of the season. You know exactly what I'm talking about. For a few more weeks, the snow still has some of its charm — you catch yourself admiring a snowflake or two, smiling at the kids building snowmen — but pretty soon, that's gone, too. Every year, the winter slaps us with the reality of our cars buried so far under the snow, waking up shivering in the morning, wearing two pair of socks on the regular, and wondering if it's normal to hate something this much. When it's so cold that stepping outside ensures not being able to feel your face, you're probably looking for hairstyles to do when you're lazy.
Speaking from experience, my naturally curly locks are difficult AF to maintain throughout the winter months. It's so cold that I don't want to spend my sleep time detangling, and it seems easier to throw it up in an easy bun and get going. Warning: Doing that will leave you with way more to detangle later.
Trying to wake up in the morning makes it hard enough to get ready. Convincing me to wash my hair in the shower and then work my cold fingers through it to make it presentable is asking far too much. On those days when your dry shampoo is about all you've got, and you really don't feel like venturing out in the cold to end up with frozen hair, these six lazy girl hairstyles are just for you.