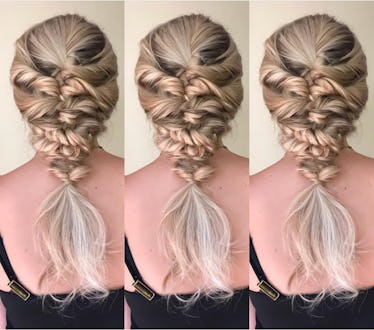 5 Summer 2018 Hairstyles That Keep You Looking Fresh When The Weather Feels Like A Fresh Hell
Briana Cotton
As someone who hasn't worn a ponytail in public since 2009, I've never really had the chance to indulge in the wild world of updos that exist in the trendbook for summer 2018 hairstyles. I've always loved how my hair looked and felt when I kept down, so much so, in fact, that I even wear it down to the gym, beach, and other stereotypically ponytail-required places. I can feel you judging me, but I don't care! I guess my neck just doesn't sweat easily, ~sue me~.
That said, just about the only thing that could make me actually use the hair tie on my wrist is a heatwave like the one we're currently experiencing. I've found myself tempted to break my no-pony rule for the first time in years, which led me to wonder what options I had beyond the classic, no-nonsense updo. What can I say? If I'm subjecting myself to an updo, I want it to be fun. And easy. And stylish. That's all!
With this in mind, I reached out to some hairstylists I love to see if they had any tips on the best styles to look chic in when the heat is just too much to bear.
A Statement Braid
"When it's too hot to wear hair down and you need it off your face, sweeping it back into a braid is a great option because you can create one that's as intricate or basic as you'd like," says Briana Cotton, hairstylist at Mimi's Salon. "This look seems advanced, but is so easy to recreate for a laid-back summer style!"
To recreate this look, Cotton says you just need to get your hands on some hair elastics, bobby pins, and maybe even a texturizing spray if you wanna go wild. "Take a small section starting at the crown of your head and create a topsy tail pony tail. (Pull the pony up and through the gap of the ponytail — this creates the twist.)" Cotton explains. "Continue doing so all the way down the back of your head, until you reach the end of your hair and secure with an elastic. The less hair you take per section, the more twists you will see, and the more intricate your style will look."
Finally, to create the full texture of the look in the photo above, Cotton suggests pulling at each twist a bit so that it won't look as tight. Then, just use your handy bobby pins to fix any fallen hair.
Lock it in with Moroccanoil Luminous Hairspray Medium Hold ($24, moroccanoil.com).
Space Buns
Yes, space buns are the quintessential festival hair ~lewk~. No, you don't need to be at a festival to wear them. "Space buns are easy to do on yourself. You just twist the hair, wrap it, and secure it with bobby pins," says Michelle Gonzalez, hairstylist at Mimi's Salon. "It's a fun and cute way to keep your hair off your neck when fighting the heat. It's also a wearable style to wear to the beach or everyday errands or out at night."
Jazz it up with Disco Shimmer Hair + Body Glitter Gel ($14, urbanoutfitters.com).
An Embellished Bun
Why go with a boring bun when you can stick all the accessories in it?! "The summer is a great time to play with accessories, from a vibrant scarf or some cool pins to keep hair off the face. Having your hair pulled up in a classic chignon is a little less stuffy if you add some accessories!" says Daniel Lutz, hairstylist at Wonderland Beauty Parlor. "Some strategically placed bobby pins or hair combs add interest [and] can help take your messy pony/bun from day to night, without breaking out the hot tools."
Lutz also says brands such as Lelet, Chloe and Isabel, and Jennifer Behr are chock full of cute, trendy accessories to help keep your hair extra chic when the weather is, well, not.
Get fancy with Chloe and Isabel Deco Pavé Pin ($36, chloeandisabel.com).
An Upside-Down, Braided Updo
While this look might take some patience (and a bit of extra time), it'll work wonders to actually keep any hair off your neck while still looking so freaking cute. "Start your French braid from the bottom of your neck and braid up toward your forehead. Then, take the remainder of the braid and tuck the excess back or twist into a bun," says Kirsten Patterson, hairstylist at The Songbird Society. "This updo is a little more edgy, so it's something that can add some interest to your look. If you add a little sea salt spray or have just come from the beach, it'll help give the hair some grip and keep the style looking even better!"
Top it off with GardenOfWhimsy Ivory Flower Clips ($24, etsy.com), and Playa Endless Summer Spray ($28, playabeauty.com).
A Good Ol' Top Knot
When you're pressed for time and the sun is beating down on your brighter and hotter than ever before, you'll just be itching to get that hair off your neck. And a classic top knot is the perfect solution. "Top knots are always very pretty and classic and easy. Just put your hair in a high ponytail and twist your hair around into a bun," says Stephanie Brown, hairstylist at Nunzio Saviano Salon. "It's also really pretty if you loosely braid it and pin it like a top knot, [as] it tends to look a little more polished and fancier. Or you could go with a messy fishtail topknot."
Dress it up with: Goody Ouchless Neon Lights Gentle Scrunchies ($5 for 8, walmart.com).