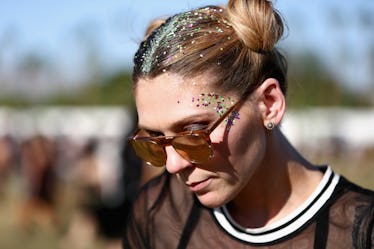 Space Buns Are The Official Hairstyle Of Summer 2018 & They're Double The Fun
Rich Fury/Getty Images Entertainment/Getty Images
There's one hairstyle that you're guaranteed to see at every summer event on earth, and for good reason — it's adorable. But now, it's transcending sonic style and beginning to infiltrate red carpets and catwalks alike. Thanks to designers, stylists, and celebrities who have recently championed the style, space buns are about to be the official summer 2018 hair trend. You read that right: space buns are not just for Halloween, concerts, or touring Area 51 these days.
If you paid attention to fashion and beauty as a pre-teen or teen in the early 2000s, then you're likely well acquainted with the hairstyle. It features two twisted buns that sit on the top of your head like little ears, and was what all of the coolest girls on Disney Channel — Lizzie Mcguire, Zenon: Girl of the 21st Century, Raven Baxter, included — were sporting during their glory days. I remember wearing space buns on multiple occasions in my early high school years but the trend seemed to mostly fade out in the later portion of the decade. Where it remained a staple, however, was within music festival culture.
As a festival junkie, I have seen my fair share of double buns over the past handful of years, and it's easy to understand why. They're playful, keep your hair out of your face and off your neck for hot days spent dancing, and can be tailored to fit an array of clothing and beauty looks. For example, the space buns I've seen at Coachella are often paired with wisps of hair pulled out around the face or are only created with the top layer of hair, creating a futuristic half-up, half-down look.
At electronic festivals like Electric Daisy Festival and Mysteryland, I've seen slicked back space buns that look more like antennae than hair. The style has been a favorite among festival-loving models and celebrities alike (i.e. Kendall Jenner, Josephine Skriver, Devon Windsor) for some time and now, it's about to hit mainstream.
When Millie Bobby Brown arrived to the Screen Actors Guild Awards this year, pretty much everyone did a double take. Not only was she wearing Converse sneakers with her bubblegum pink dress, her hair was pulled up into sleek, tiny space buns, which were adorned with little black bows. The whole look was a departure from the standard updos and beachy waves that typically oversaturate red carpets and I, for one, loved it.
Earlier this spring, Opening Ceremony hosted its fashion show at Disneyland and the buns once again made an appearance. Yes, the fact that they mimic Mickey Mouse ears was intentional. As the show's lead hair stylist, Holli Smith, explained to Refinery 29, "We felt we couldn't miss the opportunity to do the ear thing." However, Smith wanted to make sure that the buns looked DIY-able ("in a way that the girl did it herself"), meaning they didn't have the same finesse and slicked back look as Brown's.
If you're wanting to try out the look but don't know where to start, you're in luck; Smith gave Refinery 29 a run-down of her best tips.
Smith suggests spritzing a thickening spray (she used [Bumble and bumble's]) from your roots to your ends before reaching for a texturizing salt spray. The combination of the two will make it easier for the buns to stay in place for hours of dancing in a mosh pit. Start each bun as a tight, high ponytail on each side, then backcomb the hair. Twist the ponytail clockwise, wrap it around at least once (depending on your length and texture), and tuck it under itself. Pin the style into place and don't worry about little flyaways or loose pieces — you don't want this to look too perfect.
There you have it folks — the knowledge and the power to rock space buns just as fiercely as you did in 1997.