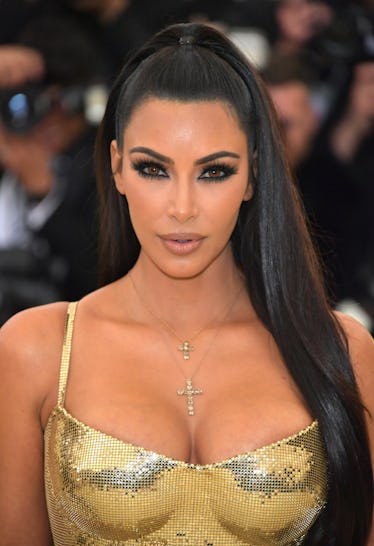 Kim Kardashian's New Lipsticks Mean You Can Copy The Star's Nude Lips To A T
Neilson Barnard/Getty Images Entertainment/Getty Images
Far be it from me to claim that the Kardashians have enough on their plates. The second-born child of momager-to-the-stars Kris Jenner, one Kimberly Noel Kardashian West, has announced her newest cosmetics venture and I'm high-key thirsty for it. When do KKW Beauty's lipsticks and lip liners drop, you ask? Soon AF.
As if it wasn't already evident, Kardashian West is proving she's the queen of multitasking: The day is May 30 and the beauty mogul is on her way to Washington D.C. to speak with the President about granting clemency for Alice Marie Johnson, as well as quenching her fans' thirst with new KKW Beauty news. Kardashian West had her social media accounts on the tip of her (presumably) perfectly manicured fingers to announce the impending drop of KKW Beauty lipsticks and lip liners and my lip-kit filled world is shook.
Both Kardashian West and her younger sister Kylie Jenner, of Kylie Cosmetics, are big fans of their various beauty "kits." Jenner founded her cosmetics empire on her lip kits, and Kardashian West's first major beauty-foray was with her über-popular contour kits. In fact, my girl Kimmy rarely releases stand-alone beauty products. Even her most recently released KKW Beauty highlighters come in four-pan palettes. Not that I'm complaining, the more KKW Beauty products the merrier, but sometimes a girl just needs one single lipstick.
OK, I take that back, I need all eight of those luscious lipsticks. Usually a lip-balm lover, myself, I'm v into these neutral shades. I always love the idea of colorful lipstick but a bold red lip seems too high maintenance for someone like me. Plus, with all the coffee I drink, my mugs would look like a crime scene. These nude lipsticks, though, I can get down with that.
If anyone can get me into lip liner, which I haven't used since I used to play around with my mom's makeup in the '90s, it'll be Kardashian West. And you know why? Because she's been low-key wearing these new products for months so I already know they're fire.
"OMG I've been wearing these for months now! ...The creamiest long lasting lip stick formula (8 lipsticks and 3 liners!!!) Can't wait for you to see my packaging! Check @kkwbeauty for more details," posted Kardashian West. The mother of three hasn't confirmed which exact looks of hers involved these lip products but I'm stealth AF and I would bet all the Kimojis in the world that Kardashian West's Met Gala look was thanks to these nude hues.
The focus of Mrs. West's beauty look was most definitely on her envious lashes, but if you glance down at her plump pout, it's not just any old neutral lip. Kardashian West looked to be wearing a nude lipstick paired with a slightly darker lip liner. It as probably (although not confirmed) one of her not-yet-released KKW Beauty lip liners! You can now lay to rest your feeble attempts at trying to recreate the look with off-brand products, and do it with Kardashian West's own goods.
The official KKW Beauty Twitter account answered a much-asked question that eager shoppers, such as myself, will be able to buy the new launch as a set or as individual bullets.
Praise be.
If you want to go for the big kahuna and get your hands on all eight lipsticks, the full Crème Lipstick Set is already listed at $144 (kkwbeauty.com). It's not available for order yet, but you can add sign up for email alerts to be among the first to rock it. The individual lip colors are pre-listed at $18 a piece (kkwbeauty.com) and each of the three lip liners will sell for an affordable $12 (kkwbeauty.com).
June 8 is the holy day that these 11 new products will inevitably fly off the shelves (virtual shelves, of course), at 3 p.m. EST (12 p.m. PST). Prepare as necessary — tell Siri, Google, and Alexa to alert you when the time is nigh — because I have a feeling you won't won't want to be late to this drop.