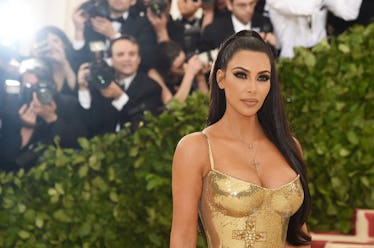 Kim Kardashian's New Makeup Drop Is Going To Make Your Summer So Lit
Jamie McCarthy/Getty Images Entertainment/Getty Images
Even a global phenomenon like the royal wedding can't stop reality TV royalty Kim Kardashian West from reclaiming her media throne. Kardashian West announced a new product mere hours after Meghan Markle and Prince Harry were married and I just need to know: How much are the KKW Beauty highlighter palettes?
Kardashian West launched KKW Beauty less than a year ago and already the brand has had numerous successful launches. From the KKW Contour Kits to Kardashian's concealer kit and most recently the KKW x Mario makeup collab, everything the Armenian beauty doles out flies off the virtual shelves of KKW Beauty's website. And I bet her newest creation will be no different.
Considering how über-popular highlighter palettes are these days, it's actually a surprise that Kardashian West hasn't made one until now. KKW Beauty does have Ultralight Beam Lip Gloss and Highlighter kits which include a loose highlighting powder but, TBH, I'm not coordinated enough to use loose powder. Plus, a glittery bottle in my purse like that? If it broke open, imagine the massacre. That's why I'm beyond excited that Kardashian West announced her upcoming pressed powder highlighter palettes. There are two different compacts to choose from, each with four unique shades of shine, and I need to know how much money to scrounge up to see if I can afford them both.
While Harry and Meghan were enjoying the wedding reception, Kardashian West was putting in work, "SO excited to announce I'm launching new @kkwbeauty highlighter palettes next week on 05.24!!! So much shine and bling and the colors are sooo pretty ✨." The mother of three tweeted a video to preview the release of the palettes and can be heard saying,
I am so excited to announce, you guys, I am launching new highlighters next week, on May 24. These are so blingy, I'm so excited because I've never launched highlighters with this much shine before. So you guys are going to dieeee! The colors are so pretty."
The beauty maven describes the first, lighter palette as having iridescent, champagne, and bronze hues, while the second, darker palette has deeper bronzes, gold, and copper tones. Kardashian West further expressed her enthusiasm about the new product:
The shine is really incredible, you guys, it's way more blingy than my highlighters that are in my contour powder kit. Just a different kind of bling... They're, like, so incredibly high shine, I'm so excited!
"😍 Coming soon to @kkwbeauty on 05.24 ✨ ✨," teased the cosmetics mogul. With that starry lineup I don't know how I'm not going to buy both palettes. All that shine, I can't!
KKW Beauty also provided photos of what the various highlighter powders look like on a few different skin tones. It seems to really deliver on the shine that Kardashian West promises.
A few days after the initial posts, Kardashian West tweeted, "So excited for you guys to try these!!! They launch 05.24 only at http://KKWBEAUTY.COM." The images show all eight pans and compare the two palettes side by side. Personally, I prefer a hint of pink to my highlighters so the lighter palette on the left is calling out to me.
There's no confirmation yet on how exactly much the palettes will cost, but KKW Beauty's similarly sized Powder Contour and Highlighter Palette goes for $44, so my guess is that these new palettes will be around the same. The glitzy highlighters will be available to purchase on the KKW Beauty website at 3 p.m. EST (12 p.m. PST) on Thursday, May 24 and will likely sell out within the hour, so save the date and act fast so you can glow with the best of 'em.