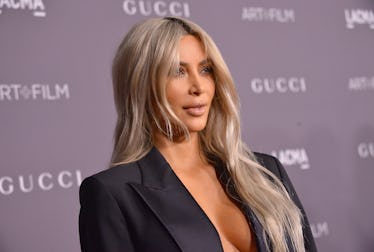 Kim Kardashian's Three-Step Concealer Kit Is Almost Here & My Dark Circles Are Quaking
Charley Gallay/Getty Images Entertainment/Getty Images
When Kim Kardashian West launched her first beauty products — contour and highlight sticks — last summer, she simultaneously revealed she was working on under eye kits. She teased them on her Twitter earlier this year but didn't provide any information about their release date. When do KKW Beauty concealer kits drop? Kardashian West herself has just revealed the exact date in an exclusive interview with Allure and get excited, because it's right around the corner.
As someone who has battled dark under eye circles my entire life, this drop, in particular, is pretty exciting for me. KKW Beauty has a reputation of churning out high quality products that do exactly what they say they will, in this case a three-piece undereye concealer kit that will supposedly (hopefully!) make dark circles disappear and give skin a brighter appearance.
Considering it took eight (maybe more) months to create, I trust it's going to be pretty great. "More important than reaching a launch date was getting the perfect formulas," Kardashian West told Allure of the upcoming Liquid Concealer. "Not only did I want to make sure there were some ingredients to treat the signs of aging like ceramides and marine collagen, but I also wanted a blendable product that you could really build to achieve that lighter undereye effect without the concealer creasing."
Along with the creamy concealer base, the kit will also include two powders, one for baking and one for brightening. If the concept of 'baking' your face is new and likely terrifying, fear not — it refers to letting translucent powder sit on your skin for a matter of minutes, while the heat of your face sets your foundation and concealer. The powder is then dusted off. This technique results in a smooth, creaseless finish. "The texture of the powders was really important to me," revealed Kardashian West.
The creamy Liquid Concealer will come in a range of 16 shades, while both the Baking Powder and Brightening Powder will be available in four shades. "I'm always listening, and I always want to know what the fans want for sure," Kardashian West told Allure.
"We kind of kept [the concealer] in the same range as our Contour Sticks — so having a light category, medium, dark and deep dark and then having four shades for each so making sure that there's a wide variety. For each category, we have two cool [powder] options and two warm [powder] options, so I feel like there will be something for everyone."
While Kardashian West had toyed with the idea of adding a dry concealer into the mix (i.e. Laura Mercier's Secret Camouflage Duo, which I use every day), she decided to nix it for two reasons: first and foremost, she simply "wasn't happy with the formula." She also realized that if something's not broke, you shouldn't fix it. "I felt like the three-step process was really strong and it's what Mario and I have really perfected for all these years," she told Allure, referencing her longtime makeup artist Mario Dedivanovic. "That's been our routine, so I really wanted to stick with that and have people understand that it's an easy three steps. Adding a dry concealer and a fourth step would be really confusing."
To use the kit, you first apply the Liquid Concealer on your undereye area, and follow it up with loose Baking Powder in either Pastel Pink, Pale Yellow, or Bronze — whichever shade works for your skin. Finally, you top it off with pressed Brightening Powder in Vanilla, Pastel Pink, Pale Yelllow, or Peach. Each of those shades is infused with a slight shimmer for optimally glowy results. "The brightening powder has been mine and Mario's secret weapon for so long," Kardashian West told Allure. "I'll dip my brush in the brightening powder and kind of use it to brush off the baking powder, and then I'll go back and use it right on the darker spots of my undereyes and let it sit there."
If the concealer's campaign photos are any indication, the three-step process works. Kardashian West, her mom, Kris Jenner, and her Grandma M.J. are all featured in it looking better than ever. "I wanted to show it's not always about these young, perfect models that are going to look good no matter what," Kardashian West revealed. "We really had to make sure that the concealer worked on different skin types and ages as well, so it was important to show that in the campaign."
The concealer kit officially drops at KKW Beauty's website on March 23, so mark your calendars! You can purchase the trio in Bundles, which includes all three products and two dual-ended brushes, for $80, or you can choose individual products for $18 each.