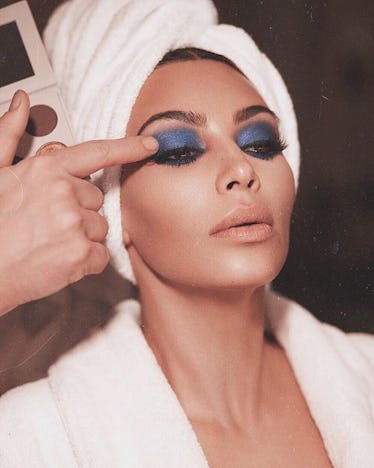 Kim Kardashian Is Dropping An Astrology-Themed Shadow & It Looks Out Of This World
Beauty junkies everywhere (including myself!) are freaking out because Kim Kardashian West and Makeup by Mario have teamed up to create the most epic collab of summer, and it looks so good. But when does KKW Beauty Libra eye shadow drop? So soon, you'll be able to wear it in time for Coachella. I'm already planning an entire outfit around this cobalt blue eye shadow look.
After countless master classes together, thousands of makeup looks and 10 years of partnership, the duo is teaming up in a completely new way. While Mario Dedivanovic has been the man behind Kim Kardashian's makeup looks for a decade now, he has become an influencer in his own right, and now he's adding a huge makeup collaboration to his resume. Kardashian West posted a photo of her and her right-hand makeup man with the caption: "10 years ago when we met I never dreamed we would be launching our own products together! @makeupbymario has taught me everything I know about make up! I'm so proud of this collection of our favorite eye shadows and lips! Stay tuned.... KKW X MARIO."
In the photo, Kim wears a black leotard with a makeup look that I can only hope came from the new collab. If so, that means I'll be able to snatch her bronzed eye shadow look and glossy lip when the collaboration drops. *Insert praying hands emoji here.*
On his Instagram page, Dedivanovic shouted out his "muse" and now business partner with a similar photo and the caption, "10 years ago I met my muse on set and I'll never forget how inspired I was by her beauty. 10 years later and I'm equally inspired every time she sits in my chair. ♥️🙏🏻 #KKWxMARIO collab launches on April 5, 2018. Exactly ten years to the day we met. I'm so anxious to show you all the collab. Reveal coming very very soon 👀 Stay tuned.... @kkwbeauty#MakeupByMario@kimkardashian."
So, as it turns out, the KKW x Mario collaboration will be available in a mere 16 days. As gathered from a clip posted on Mario Dedivanovic's Instagram, the collection will include one eye shadow palette packed with the prettiest shimmery shades of champagnes, golds, bronzes, browns, and plum, along with matte red and orange shades. The standout shade is a bright blue shimmer called Libra, seen on Kim in the campaign imagery.
Why is it called Libra, though? Kardashian West explained the astrological twist in her Instagram caption.
A Metallic cobalt blue called Libra is a shade in our palette. @makeupbymario & I are both Libras & this shade of blue is special to us because I would fight against color & one time when I was on my phone & not paying attention he did a blue eye & I freaked out but then looked in the mirror I loved it! We fight over which look we should do all the time but this blue eye reminds me to trust him lol 4-5 KKW X MARIO KKWBEAUTY.COM
The kismet collab will also include two glosses (one nude and one peachy shade) and a darker shade of lipstick that from the quick clip looks like a brown or red color. See below for quick swatches and behind the scenes footage.
Dedivanovic posted the video with the caption, "OMG here it is! I'm so nervous right now my heart and hands are shaking. I hope you love it 🙏🏻🙏🏻 #KKWxMARIO tons more pics, videos, tutorials coming soon! @kkwbeauty@kimkardashian#MakeupByMario. Video- @huxch. Check my IG stories for some info about it 😚"
Naturally I visited his Instagram Story, and while there weren't any more sneak peeks, Dedivanovic did share where the inspiration for the eye shadow palette came from. He says, "I wanted anyone to recreate any of our past looks. I basically took all of these favorite looks that I was putting in collages on my inspiration boards and I created the colors that went..." Then, Instagram cuts him off. But basically, he says that from the "thousands" of looks he has created on Kim, these were the new palette is made up of her most-used shades.
Then, Dedivanovic posted this video (below). While he totally does Kim dirty by swiping streaks of eye shadow down her cheeks, you can see how bright and shimmery that blue eye shadow actually is. And TBH, she kind of makes these streaks look like the most glam swatches ever. How does she do that?
Set your calendar reminders for April 5, because while KKW beauty products have a reputation of selling out in seconds, Kimmy's latest collab also has Makeup by Mario's name on it. As if getting a piece of Kim's beauty wardrobe wasn't difficult enough already, this will definitely up the ante.