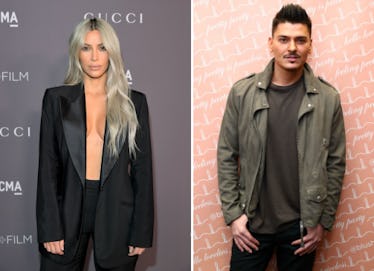 The Meaning Behind KKW Beauty's Newest Makeup Drop Will Make You Teary-Eyed
Charley Gallay/Stringer/Getty/Astrid Stawiarz/Stringer/Getty
Kim Kardashian West's cosmetics brand, KKW Beauty, is established in its own right, but who doesn't love a good collaboration? I know I do. Kardashian West's newest venture isn't with one of her famous sisters, but it's just as meaningful. So, when does the KKW Beauty x Mario Dedivanovic collab launch? The date is so soon and while I'm sure the products will be off the charts, the story behind this project is almost more dramatic than the launch itself.
Kardashian West has partnered with family members in the past — the KKW x Kylie Cosmetics liquid lipsticks were naturally a big hit — but her newest partnership is a little more professional, so to speak. Kardashian West's longtime makeup artist Mario Dedivanovic (better known by his social media stage name Makeup By Mario) is taking a stab at a collab. Dedivanovic has been a proponent of all new KKW Beauty products — he was one of the first to reveal and review the KKW Ultralight Beam lipgloss and highlighter kits and was a low-key consultant for the just launched KKW Beauty concealer kits.
And now it's his turn for his very own KKW Beauty project, drumroll please, KKW Beauty x Mario eyeshadow and lip products!
KKW Beauty teased the shadows in January with a black and white photo of the pans. Kardashian West seems to announce a new launch almost weekly, though, so this exciting announcement was moved to the back burner for a bit as her concealers took center stage. But Dedivanovic's time has come!
Kardashian West used her natural habitat of Twitter to share the pictorial debut of KKW x Mario "eyeshadows and lips." Kardashian West's promo photos show the beauty in a bronzed smokey eye and golden lip color. The reality star often chooses a brighter, more neutral-colored look, so this slightly darker, gilded vibe is intriguing.
The inexplicably, ever-knowing Twitter account Trendmood has gotten its hands on some more sneak peak photos of the goods. According to this post, the collab will include a ten pan eyeshadow palette, one nude lipstick, and two lip glosses, one of which is also nude and the other a shade of red.
The eyeshadow palette is surprisingly colorful, including a very bright blue hue called Libra. "I would fight against color & one time when I was on my phone & not paying attention he did a blue eye & I freaked out but then looked in the mirror I loved it! We fight over which look we should do all the time but this blue eye reminds me the trust him lol," Tweeted Kardashian West. It seems my beloved Kim really let Dedivanovic take the reigns on this one, and I'm not mad about it.
While the world waits for the actual products (in other words, what my next pay check will be going towards), Dedivanovic is helping to pass the time with the most endearing story about the collab's launch date.
I was scrolling through Instagram the other day and saw Dedivanovic's post with what I thought was an upcoming shoot with Kardashian West. "OK, that's cool, but they work together all the time, so what's new?" I thought. Then I noticed the year on this planner: 2008. Dedivanovic still has his date book from Apr. 5, 2008, that first day he met and worked with now legendary Kardashian West. Ten years ago, however, my dear Kimmy wasn't exactly a household name.
"I had an agent who demanded that I stop working with Kim immediately. They said I would ruin my career," writes Dedivanovic. In 2008, Kardashian West was still very much an up-and-comer with no promise of success. Many industry insiders scoffed at the idea of a "reality star" and warned Dedivanovic against working with her. The makeup artist took a chance, though, and decided to work with her, a decision that changed his life forever.
Was I going to sit and worry about what the elitist industry would think of me and try to fit into their mold? I refused. I chose to stick with Kim because it felt right in my heart... When I parted ways with my agency, one of the last things they said to me was 'good luck, Mario because you will never get a Vogue cover working with her...' Never let anyone dictate the trajectory of your life and career."
Can you imagine if Dedivanovic and Kardashian West had never met? It'd be like if Will & Grace never met! Dedivanovic is the star's go-to makeup artist and I can't even imagine what she'd look like without him. So how is Dedivanovic celebrating the best decision he ever made? His KKW x Mario products are coming out on Apr. 5, 2018 — ten years to the day that he met Kardashian West.
I'm not crying, there's just something in my eye. The KKW x Mario collab will drop on the KKW Beauty website at 3 p.m. ET on Apr. 5, a now historical day.