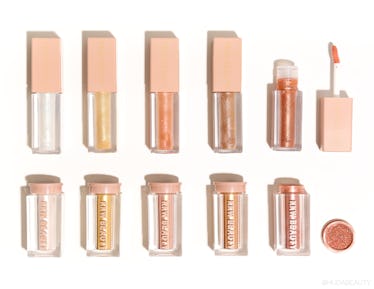 Kim Kardashian Is Launching Glittery Metallic Lip Kits & They're Absolutely Perfect For The Holidays
Move over, Kylie Jenner. The original, reigning Kardashian is coming out swinging with her own version of lip kits. Kim Kardashian West has revealed her new makeup will drop on Dec. 1, leaving fans frantically wondering where to buy KKW Beauty Ultralight Beam lip gloss.
Kardashian West announced her new offering without actually announcing it herself. Never one to play by the book, Kimmy wrote a new page by relying on word of mouth from famous beauty blogger Huda Kattan. Kardashian West simply sent her a box of the new products, with no warning, and Kattan was thus nominated to broadcast the news ASAP to her nearly 23 million followers.
When Kardashian West launched her contour kits and the KKW perfumes, her social media accounts were rife with promotional content. So what's different about this one? Kardashian West is not usually one to shy away from an opportunity for self-exposure. Perhaps it's the fact that this new product may step on the entrepreneurial toes of her youngest sibling, Kylie Jenner? Jenner has made herself even more unimaginably wealthy in the past couple of years thanks to her Kylie Cosmetics lip kits. The young social media star has also ventured into eyeshadow palettes, blush, and most importantly for now, highlighter. Kardashian West's new products are just that, lip gloss and highlighter. Let's take a look, shall we?
The Bombshell Announcement
Kattan was clearly just as surprised as the rest of us about these new KKW Beauty products. The blogger posted on Snapchat as she opened the surprise delivery while squealing about how surprised and excited she was. Kattan made it clear she was shook over the package:
"I'm dying, literally dead over this. This is the most beautiful collection I have ever seen. Everything about it, the colors, the packaging, I'm literally speechless. So beautiful."
Kattan also reminded us that Kardashian West provided her with zero prior warning, "OK, first of all, I didn't even see Kim teasing this." That's because she didn't! Kattan, you were given with the ever-important job of spreading the news, and I'm happy to report you were up to the task.
The Inevitable Promotion
Once recovered from her understandable freakout, Kattan posted a more clear image of what the products look like. There are five new glosses with a corresponding highlighter for each in varying metallic, rose-toned shades. Kardashian West has yet to disclose the exact names of each hue, but I would describe them as, from left to right, silver, yellow gold, rose gold, bronze, and copper. The silver seems to have a pearly, iridescent vibe happening that I'm definitely feeling. The rose gold highlighter looks like maybe the most user-friendly shade, because I assume this set doesn't come with a professional makeup artist.
The Product Breakdown
Kattan wasted no time in breaking open some of the products. She first tested out what appears to be the yellow gold highlighting powder. Unlike Kardashian West's pressed powder and highlighter kit, these extra shimmery highlighters come in loose powder form. "They do feel a bit dry to the touch, so I definitely think using it with, like, a primer would be great. But these will be amazing," said Kattan.
The ever-knowing beauty account TrendMood also got its hands on the new products. The account posted images of the bronze-colored gloss and powder to show what they look like out of the bottles. It's just as dazzling as expected, but now I'm more impatient than ever to see the rest!
Kardashian West's long-time makeup artist Mario Dedivanovic, better known by his social media name, MakeUpByMario, also gave a sneak peek of the beauty set. Dedivanovic explained that for the loose powders, "You can use these wet or dry. They're really beautiful when you apply them wet on the eyes, you can use them on the body, you can mix them with your moisturizer to get dewy skin all over."
Dedivanovic offered another tip to KKW Beauty newbies like myself. "If you wanna make the gloss super high coverage and opaque, you take a little bit of the pigment and you mix it with it, and it looks beautiful. Also as an eyegloss, like, on the eyes, for photos, it's really gorgeous."
After all the fanfare, Kardashian West decided to break her silence on the kit in the most dramatic fashion: by posting a topless photo of herself decked out in only glitter.
Wowie.
The caption confirms this Friday as the launch date: "Ultralight Beams highlighters & glosses launching Dec 1st on KKWBEAUTY.COM," Kardashian West wrote. So there you have it folks, expect to shop KKW Beauty's new lip gloss/highlighter duos online at KKW Beauty's website on Dec. 1 at 12 p.m. EST.
Nothing like a friendly sibling rivalry to spice things up around the holidays.