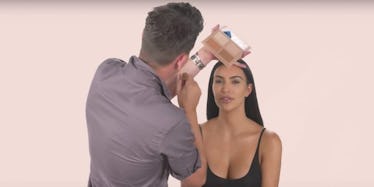 Here's How To Use Kim K's New Powder Contour Kit For The Perfect Glow
YouTube/Kim Kardashian
If there's one celebrity you think of when you want to learn the perfect contour, it's Kim Kardashian West. She's the queen of highlighter and bronzer, and we all know it. The star launched KKW Beauty this summer and dropped a crème version of a contour kit, and she's back again with the powder version. The powder kit launches Tuesday, Aug. 22 at 12 p.m. PST, and fans (who may not be beauty gurus like our beloved Kim K) want to know how to use it. So, Kim Kardashian's powder contour kit tutorial was uploaded to her app to help everyone out.
The contour kit comes with four different colors. Kim K explained the kit on Instagram, saying,
There are two matte contour shades and two shimmer highlight shades in each palette and a new dual-ended brush with an angled side for contour and a round side for highlight. Plus each palette comes with a built in mirror. I'll use the lighter shade as a bronzer to warm up my face and the darker shade to contour and define. And the highlighters give the prettiest glow! I usually use the medium kit when I'm tan, and the light when I'm pale.
The powder kit is super similar to the crème in terms of where it actually goes on your face. The darker shades are used to define areas like your cheekbones and the bridge of your nose, while the lighter shades are used to highlight and reflect light off of other areas like under your eyes and your cupid's bow. Kardashian released a video with her trusted makeup artist Mario Dedivanovic to show exactly how the palette works.
Kardashian also showed off the palette in a separate video on her app, with YouTube star Desi Perkins.
So, if you need guidance, there's no shortage of that on Kimmy's page. Once the product drops, all your favorite makeup artists will probably try it out, too!