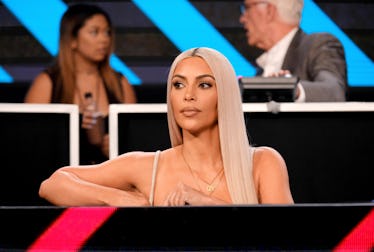 Kim Kardashian Is Meeting Donald Trump At The White House For A Legit Reason
Kevin Mazur/One Voice: Somos Live!/Getty Images Entertainment/Getty Images
Kim Kardashian is headed to the White House. On Wednesday, May 30, the 37-year-old reality TV star will meet with President Donald Trump in the Oval Office, and the encounter is slated to be more than just a photo op. Kim Kardashian is meeting with Donald Trump with an actual purpose in mind, reports say: to convince the president to pardon Alice Marie Johnson.
Johnson is a 62-year-old Tennessee native who is serving a life sentence in federal prison for a drug related crime. For months, Kardashian has been advocating for her release, having first noticed Johnson's story after Mic produced a short documentary about her time and prison and her bid to earn a presidential pardon.
During President Barack Obama's tenure, Johnson had hoped that she would be among the 200-plus prisoners granted clemency in December 2016, during the last days of his presidency. In an op-ed for CNN, written after Obama's mass pardon, Johnson wrote about her disappointment at having not been among the pardoned, but outlined her plans for the future.
"During my two decades in here, I've become an ordained minister and a mentor to young women who are also in prison," Johnson wrote. "And if I get out — I have a job secured, and plan to continue to help those in prison and work hard to change our justice system."
According to Vanity Fair, Kim Kardashian will enter the White House shortly before 4 p.m. on Wednesday to ask for just that: a chance for Alice Marie Johnson to get out.
Johnson's stated desire to reform the criminal justice system is shared by Jared Kushner, the president's son-in-law who also serves as White House adviser alongside his wife, first daughter Ivanka Trump.
On Tuesday, May 22, a bipartisan prison reform bill backed by Kushner — and former Obama adviser-slash-CNN pundit Van Jones — passed through the House via a 360-59 vote. At the time of writing, the Senate has yet to vote on the bill. At a White House event earlier in May, Kushner described the bill as a step towards more reform in the future.
"If we can start showing that we can make the prisons more purposeful and more effective at lowering the recidivism rate over time, that may help the people who are trying to make the argument for sentencing reform," Kushner said, per Vanity Fair.
Kushner's efforts to enact legislation for criminal justice reform made it no surprise that he was the White House official with whom Kardashian had been corresponding with, as she advocated for Alice Marie Johnson's release.
In April, Axios reported that Kardashian held multiple phone calls with Kushner over a period of months to discuss the possibility of clemency for Johnson.
Those phone calls appear to have resulted in Kardashian's scheduled meeting on Wednesday, when she will walk into the Oval Office and push for a presidential pardon.
If Kardashian is successful in her push, it won't be the first event of its kind during the Trump presidency. A week prior to Kardashian's scheduled meeting, President Trump granted a posthumous pardon to former heavyweight boxing champion Jack Johnson.
A month earlier, Trump tweeted that actor Sylvester Stallone, of Rocky fame, was among the people who pushed for Johnson's pardon. "Sylvester Stallone called me with the story of heavyweight boxing champion Jack Johnson. His trials and tribulations were great, his life complex and controversial. Others have looked at this over the years, most thought it would be done, but yes, I am considering a Full Pardon!" Trump said on Twitter.
After Wednesday, Kardashian will be hoping that the president shows an equal amount of enthusiasm for releasing Alice Marie Johnson.