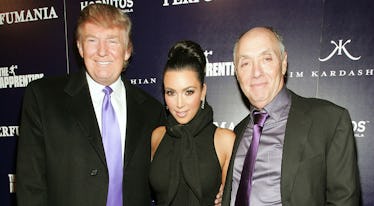 Kim Kardashian Is Reportedly Lobbying Trump's White House To Pardon A Drug Offender
John W. Ferguson/Getty Images
Kim Kardashian wants something to be done by President Donald Trump. Kardashian has reportedly been talking over the phone to Jared Kushner, the president's son-in-law and close adviser, about gaining a presidential pardon for Alice Marie Johnson. But who exactly is Alice Marie Johnson, and why is Kim Kardashian lobbying on her behalf?
Johnson is a 62-year-old woman who has served over two decades in federal prison as part of a life sentence for a drug-related crime. In 1997, The Tennessean reported that Johnson's conviction stemmed from her leading role in a multimillion dollar drug ring that dealt thousands of kilos of cocaine over a three year period.
In a 2016 op-ed for CNN, Johnson wrote,
I want this part to be clear: I acknowledge that I have done wrong. I made the biggest mistake of my life to make ends meet and got involved with people selling drugs. This was a road I never dreamed of venturing down. I became what is called a telephone mule, passing messages between the distributors and sellers. I participated in a drug conspiracy and I was wrong.
Johnson's CNN op-ed was written in December 2016, a week after President Barack Obama — who, at the time, was a month away from exiting office — granted clemency to 231 people, the majority of whom had been imprisoned for drug-related crimes.
In the op-ed, Johnson explains that she had gotten involved in drug-dealing after a tumultuous period in her life, which featured a divorce, the loss of her job, and the death of a child. Johnson wrote that, at the time of her conviction, she had two children in college and one in high school.
A lot has changed in those two decades.
Johnson wrote that she has become an ordained minister and playwright in prison. By now, her children will have doubled in age, and their mother has become a poster child for the fight to end lengthy sentences for nonviolent drug offenses. In November 2013, Johnson was featured in report from the American Civil Liberties Union (ACLU) on nonviolent offenders nationwide who have received life sentences without parole.
In October 2017, Johnson was the focus of a video produced by Mic. In the video, she expressed her disappoint at not being among the prisoners Obama pardoned. "When the criteria came out for clemency [under President Obama], I thought for sure — in fact, I was certain that I'd met and exceeded all of the criteria," Johnson said in the video. "I had 100 percent clear conduct for the entire time, my entire time in prison, no disciplinary infractions. I am a true first-time nonviolent offender."
Shortly after the video's release, Kim Kardashian shared it on Twitter with a simple caption: "This is so unfair."
Kardashian then began to actively work on Johnson's behalf. In November 2017, the New York Daily News reported that Kardashian got her personal lawyer on Johnson's case and that of another prisoner, Cyntoia Brown.
Brown is another prisoner whose story of receiving a life sentence has gone viral.
"Kim asked me several weeks ago how she could help Alice Johnson in her fight for justice. We then began corresponding with Alice and her team of lawyers," attorney Shawn Holley told the Daily News last November. "Since then, Kim has championed the cause of Cyntoia Brown and asked me to help her get involved in that effort as well."
That same month, Johnson wrote a letter thanking Kardashian. It read, "Ms. Kardashian you are literally helping to save my life and restore me to my family. I was drowning and you have thrown me a life jacket and given me hope."
Now, six months later, Mic has reported that Kardashian has been in direct contact with the Trump White House, with phone calls between her and Kushner focusing on the possibility of a presidential pardon for Johnson. Mic also reported that the case has been reviewed by White House attorneys. Axios confirmed that the calls have taken place over a period of months.
The news comes as Kardashian is making political news for defending her husband, Kanye West, as he attracted the ire of fans for airing support for President Trump.
Kushner appears to be a natural ally for the cause, given his efforts to enact criminal justice reform. In mid-April, USA Today reported that Kushner is working within an unlikely trio of political figures to lobby Congress. That trio includes Kushner himself, CNN commentator and former White House official Van Jones, and Grover Norquist, the conservative, anti-tax crusader who boosted Cardi B's rant on tax policy.
The aim for Kardashian from here appears to be clear: Work with Jared Kushner to get Donald Trump to pardon Alice Marie Johnson.