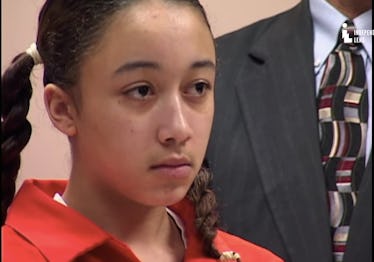 Kim K's Tweet About This Sex Trafficking Victim's Life Sentence Will Devastate You
In 2004, then-16-year-old Cyntoia Brown was arrested for killing a man in Tennessee. The teenager was a sex trafficking victim who ran away from home and was living with a 24-year-old man, called "Cut-throat," who physically and sexually abused her, according to the Associated Press. Cut-throat made her prostitute herself for money, which is how she met Johnny Allen, 43, who then took Brown to his home and was acting in a way that made her uncomfortable and afraid. So, thinking he was going to attack her, Brown took out a gun she had in her purse and shot him, she testified. After being found guilty in a 2006 trial, Brown was sentenced to life in prison. Based on her sentence, Brown will not be eligible to seek parole until she's 67 years old.
Now, her story is in the news again, as Fox 17 Nashville published a new report on Brown's life in prison on Thursday, Nov. 16. The report featured a video from Dan Birman, a professor at University of Southern California's Annenberg School for Communication and Journalism, who has been telling Brown's story and pushing for justice. Birman has known Brown for 14 years and made a documentary, Me Facing Life: Cyntoia's Story, about her life. According to Fox 17, Brown got an associate degree from Lipscomb University and is now working on a bachelor's degree while also working as an unpaid consultant for the Juvenile Justice system.
In part because of Brown's story, Tennessee law was almost changed. According to the Tennessean, a 2015 proposal would have required a review of life sentences for teenagers 15 years served. Had Brown been sentenced under those rules, she would have been able to get a sentencing review when she was 31 years old. Instead, she's waiting for possible parole eligibility when she's 67. However, that bill was withdrawn in Tennessee in 2015, and a similar bill was pulled from the agenda in 2017, according to Birman.
A new law changed in 2011 requires that instead of being marked as "prostitutes," teenage girls are classified as "sex trafficking and manipulation victims." That difference could have altered Brown's sentence, but because she was sentenced before that law was changed, she remains in prison.
With Brown's story going around again in the news and on social media, many celebrities are taking up the fight for her freedom. On Tuesday, Nov. 21, both Rihanna and Kim Kardashian West, among many other individuals, shared Brown's story on their social media platforms. They both shared a screenshot of a post about the young woman, explaining her story and asking the reader to imagine being her and being "convicted as an adult and sentenced to life in prison."
"The system has failed," Kardashian West wrote in her tweet about Brown's story. "It's heartbreaking to see a young girl sex trafficked then when she has the courage to fight back is jailed for life! We have to do better & do what's right."
Kardashian wrote in her tweet that she reached out to her own attorneys to see if there's something that "can be done to fix this." She ended her tweet with the hashtag #FreeCyntoiaBrown.
Similarly, Rihanna called for justice in her own social media post about Brown.
"Did we somehow change the definition of #JUSTICE along the way??" Rihanna wrote on Instagram. "Something is horribly wrong when the system enables these rapists and the victim is thrown away for life! To each of you responsible for this child's sentence I hope to God you don't have children, because this could be your daughter being punished for punishing already!"
Rihanna concluded her Instagram post with the #FreeCyntoiaBrown hashtag as well as #HowManyMore.
Many social media users posted the hashtag #FreeCyntoiaBrown to call for the young woman's freedom.
Although celebrities and members of the public are calling for Brown's freedom, it's unclear if there will be an actual change in her circumstance.
Unfortunately, attention from both Rihanna and Kim Kardashian West doesn't mean much in a court of law. Should Kardashian's lawyers find a way around the case, Brown could see a lessened sentence, but there is currently no indication of that actually happening. Birman and Brown's other supporters are hoping that the governor and parole board will consider clemency for her, according to Fox 17.