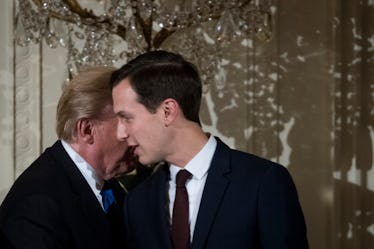 Jared Kushner Has A New Policy Focus & It's So Ironic You'll Scream
Drew Angerer/Getty Images News/Getty Images
While President Donald Trump's first working days of the new year have focused on subjects like immigration and budget deals, his son-in-law reportedly has a different focus. Jared Kushner is now working on prison reform, Axios reports, and the White House adviser has been exploring the issue for six months. Prison reform is, to be sure, a big issue to work on, and the result of any push from Kushner for progress in this area will be an interesting.
But the news of Kushner's latest focus is interesting for another reason: it's just a little bit ironic, given the Kushner's family's own history of legal issues.
On Saturday, Jan. 6, The Wall Street Journal reported that the family's company is being investigated by the Securities and Exchange Commission regarding the company's use of EB-5 visas. The TL;DR there? Investigators are looking into whether the company used the program improperly to attract investment.
Last August, when news of the investigation was first reported — but without any specific regarding which agency was doing the investigating — the company's legal representative insisted the family did nothing improper. "Neither Kushner Companies nor Nicole Meyer have done anything wrong in connection with the EB-5 program, and any suggestion to the contrary is simply false," Kushner Companies' general counsel, Emily Wolf, said in a statement reported by The New York Times. "The company and Ms. Meyer are cooperating with all legal requests in order to show that they did everything properly and clear up any questions."
There's also the fact that Jared Kushner himself is a subject of interest of ongoing investigations into Russian influence over the 2016 election.
Former White House chief strategist Steve Bannon was quoted saying that investigations related to Russian interference, particularly the one ran by special counsel Robert Mueller, would point to Kushner's financial activity. "You realize where this is going. This is all about money laundering," Bannon is quoted as saying in Fire and Fury, a recently released because about the inner workings of the White House.
Bannon later adds, "It goes through Deutsche Bank and all the Kushner sh*t. The Kushner sh*t is greasy. They're going to go right through that. They're going to roll those two guys up and say play me or trade me."
Meanwhile, Democrats in Congress are interested in interviewing Kushner for reasons not too dissimilar from what Bannon referred to: financial dealings. "The fact that we have not had any kind of public visibility on 'follow-the-money issues' is a very significant deficiency of the inquiry," Senator Ron Wyden (D-OR) told Politico. "I think Jared Kushner ought to be back answering questions in public. I think Donald Trump Jr. should be back answering questions in public, and we would obviously coordinate with Mueller on that."
In a statement, President Trump said Bannon "only pretends to have had influence to fool a few people with no access an no clue, whom he helped write phony books." Trump said in a tweet that Fire and Fury is "full of lies, misrepresentations, and sources that don't exist."
Then there's a legal issue for the Kushner family that actually resulted in someone getting jailed. As Axios' Mike Allen notes, the issue of criminal justice is close to home for Kushner, given his father's history of having been jailed. The elder Kushner, Charles — who, surprise, was a big-time Democratic donor — received a two-year prison sentence in 2005 after reaching a plea agreement on 18 counts that included tax evasion.
"It is difficult for me to reconcile the generous man with the revengeful, hateful man," the federal judge presiding over Charles Kushner's case said. "But I must take into consideration the vengeful nature in which this was done. In light of all the relevant circumstances, I find that you be imprisoned for 24 months."
So yeah, Kushner on prison reform, just a little, tiny bit ironic. Or, depending on how you're looking at it, too perfect.