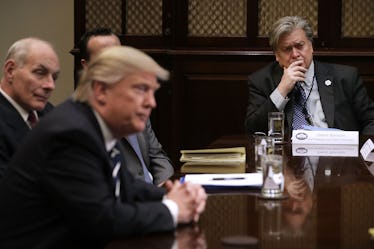 Donald Trump Fired Back At Steve Bannon About Those Treason Comments & It's Wild
Chip Somodevilla/Getty Images News/Getty Images
Treasonous. Unpatriotic. These are just two words former White House Chief Strategist Steve Bannon used to describe the June 2016 Trump Tower meeting between Donald Trump, Jr. and Kremlin-backed Russian lawyers — and only a taste of the explosive allegations made in a newly released book on the Trump administration. Which is perhaps why President Donald Trump released a statement blasting Steve Bannon in extremely personal terms. Thus continues Trump's terrible, horrible, no good, very bad week.
On Wednesday, Jan. 3, White House Press Secretary Sarah Huckabee Sanders sent a statement from POTUS himself to the White House Press Pool. Not unusual in and of itself on the surface, but in the statement, Trump called former White House aide Bannon, among other things, unhinged and attempted to completely divorce himself from the Breitbart editor, according to Politico. Bloomberg News White House Reporter Jennifer Epstein posted the full statement, which you can read below, and it is something else, with Trump alleging that his former Chief Strategist has "lost his mind."
A couple of assertions — again, from the president himself — are wildly unpresidential, like, "When [Bannon] was fired, he not only lost his job, he lost his mind."
Another favorite: "Now that he is on his own, Steve is learning that winning isn't as easy as I make it look."
This attack is, put bluntly, wild. It's like a longform entry in a burn book.
You may be wondering (and reasonably so) why the president of the United States bothered to release a personal attack on a former White House employee who was fired in August. Well, you'd have to read the statement a little bit closer.
As enjoyably unhinged as the entire statement is, the important information — and the reason Trump released the statement — is in the beginning of the third paragraph, which reads,
Steve pretends to be at war with the media, which he calls the opposition party, yet he spent his time at the White House leaking false information to the media to make himself seem far more important than he was. It is the only thing he does well. Steve was rarely in a one-on-one meeting with me and only pretends to have had influence to fool a few people with no access and no clue, whom he helped write phony books.
Leaking false information? Phony books? Huhhhh?
Trump's reactionary statement is in response to journalist Michael Wolff's new book, Fire and Fury: Inside the Trump White House — to which Bannon contributed heavily. And aside from describing special assistant to the president and First Daughter Ivanka Trump "dumb as a brick," Bannon dropped some serious bombs — some of which may actually be true.
Chief among them are Bannon's assertions that a June 2016 Trump Tower meeting between Donald Trump, Jr., Jared Kushner, and campaign chair Paul Manafort and Kremlin-backed lawyers promising dirt on then-opponent Hillary Clinton was "treasonous" and "unpatriotic."
Further, Bannon alleged, according to The Guardian, that Trump Jr. directly involved his father in the meeting: "The chance that Don Jr did not walk these jumos [sic] up to his father's office on the twenty-sixth floor is zero." (Trump has consistently denied these allegations, and said he didn't know about the meeting until "two or three days" before the story broke in summer 2017.)
These are damning assertions, as the Trump campaign is being investigated by special counsel Robert Mueller for possible collusion with a foreign agent. While Trump himself was revealed to be directly involved in trying to mislead the press about the nature of the 2016 meeting after The New York Times initially reported on it in July 2017, the Russia investigation has largely focused on Trump-adjacent individuals, not Trump himself.
And Trump's statement may be wild, but no, this isn't "fake news."
Some Trump supporters have started saying that the statement is "fake news" or are questioning the veracity of the statement — as is the knee-jerk Trump response to any negative press coverage. But both Bloomberg's Epstein and Politico confirmed that they received the statement directly from White House Press Secretary Sarah Huckabee Sanders on behalf of the president. (Further, it has been posted on the Public Pool Report bot.) So, uh, it's real.
If you needed more proof that this statement reflects the president's true feelings, Sanders said in the Jan. 3 press briefing that the president is "furious" and "disgusted" by Bannon's statements. And when a reporter asked why Trump continued to talk to Bannon "for so many months" after the strategist was fired, Sanders rebutted that meetings were at Bannon's request, and just because "the president spoke with him, that doesn't mean he can't take that position" (referring to the fact that the president has publicly accused a former employee of losing his marbles).
And perhaps the revelations of today — why Trump is Big Mad — can give us some insight into some of his other, uh, behavior this week. Or maybe not.