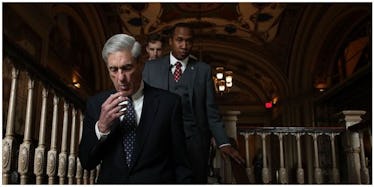 Investigation Into Russian Election Meddling Might Finally Be Touching Trump Directly
Alex Wong/Getty Images
Special counsel Robert Mueller has made a new request relating to the Russia investigation, and this time, it seems directly related to the president. The Russia investigation's request for documents about Donald Trump's actions is the closest the investigation has come to directly touching Trump, as far as we know. According to The New York Times, Mueller has requested White House documents related to Trump's actions in 13 areas, including the firing of Michael Flynn, Trump's former national security adviser; an Oval Office meeting with Russian officials in which Trump said firing former FBI director Comey's firing relieved "great pressure" on him; and regarding White House response to questions about revelations that President Trump helped draft his son's statements regarding a June 2016 meeting with a Russian lawyer.
The story is extraordinary for several reasons, not least of which is the fact that the request shows "that several aspects of [Mueller's] inquiry are focused squarely on Mr. Trump's behavior in the White House," per the Times. Up until now, it seemed like the president had successfully avoided the direct gaze of Mueller's investigation -- if not the American public -- at least judging by information that has been released (or leaked) to the press thus far.
There are three things the request for documents are most focused on.
They're Flynn's firing, the Oval Office meeting with former Russian Ambassador Sergey Kislyak, and Trump's drafting of the statement in response to his son Donald Trump Jr.'s meeting with a Russian lawyer. But why are these so important?
First, let's start with Flynn. He was Trump's first national security adviser, and he had myriad problems. He had previously worked for several foreign governments -- including Turkey -- without disclosing these relationships. He was ultimately fired, however, after he lied about a Dec. 2016 conversation he had with former Russian Ambassador Sergey Kislyak, in which he allegedly tried to undermine then-President Barack Obama's economic sanctions on Russia, in an apparent violation of a law which prohibits private citizens from interfering in diplomatic deals with foreign governments. Trump fired Flynn on Feb. 13, a whopping 18 days after these revelations surfaced -- and subsequently defended him on Twitter, calling investigations into Flynn's behavior a "witch hunt...of historic proportion."
Mueller is reportedly interested in this, according to the Wall Street Journal, because there is a possibility that Trump sought to obstruct a federal probe into Flynn's dealings with foreign agents -- particularly several Russian diplomats.
Trump's firing of Comey has also come under scrutiny, as he told NBC's Lester Holt that he fired Comey because of the Russia investigation. His exact words were, "When I decided to just do it I said to myself, I said, 'You know, this Russia thing with Trump and Russia is a made-up story, it's an excuse by the Democrats for having lost an election that they should've won.'"
Though the White House quickly changed tacks and claimed Comey was fired for being overtly partisan, Trump's admission could make him vulnerable to charges of obstruction of justice. And the meeting he held with Russian officials just days after Comey's firing could help Mueller clarify Trump's true reasoning.
According to the Times, Trump allegedly told officials -- including Kislyak -- that he was glad to get rid of "real nut job" Comey and that firing Comey -- who had been investigating possible collusion between the Trump campaign and Russia -- relieved "great pressure."
And after news broke in July that Trump's eldest son, Donald Trump, Jr.,along with son-in-law Jared Kushner and then-campaign chair Paul Manafort, had scheduled a June 2016 meeting in Trump Tower with a Kremlin-associated lawyer seeking to give the Trump campaign dirt on Hillary Clinton, The Washington Post reported that Trump himself had dictated Trump, Jr.'s false statement to the press, which claimed that the meeting was supposed to be about adoption.
Despite Trump's direct involvement in misleading to the press about the content of the meeting, the fallout from that revelation has so far focused squarely on Trump Jr., Kushner, and Manafort -- the three Trump campaign members who were present for the meeting. (And it has been confirmed that Mueller is investigating the Trump Tower meeting.) Up until now, anyways.
And despite myriad connections between the Trump campaign and Russia, information the public receives about the Mueller investigation most often pertains to other members of the Trump campaign, such as Trump Jr. and Manafort, so the news that Mueller is, indeed, focusing on Trump himself is nothing short of a bombshell, and means that Trump's presidency could be over soon. 
Recently, news broke that Mueller had conducted a "pre-dawn raid" at Manafort's Alexandria, Virginia house in July -- a tactic usually reserved for individuals with mob associations or who might otherwise try to get rid of damning documentation. On Sept. 18, it was revealed that Manafort had been wiretapped by the FBI as part of an early investigation into Russian meddling.
Mueller has also reportedly teamed up with New York Attorney General Eric Schneiderman to go after Manafort (and possibly others) on a state level in order to prevent Trump from pardoning him in exchange for silence.
This isn't the only Russian investigation news to break on Sept. 20.
The news about Mueller's direct focus on Trump comes at the same time that The Washington Post reported that Manafort, who has been under investigation for over a decade for his work as a foreign agent, offered to give briefings on the Trump campaign to a Kremlin-associated Russian billionaire. He reportedly made this offer via email.
All these revelations are, to put lightly, not good for the president. For weeks, news outlets have reported that the heat is being turned up in Mueller's investigation, but this seems to be the most concrete evidence that Mueller is closing in. Newsweek has even reported that this could spell the end for Trump's administration.
The Times reported that Trump lawyer Ty Cobb told Mueller's team that he'll turn over "many" of the documents this week, but Trump has made no secret of how he feels about the investigation, calling it a "witch hunt" on Twitter at least 16 times in the past. After the Times, the Post, and the WSJ all published stories about the Russia investigation tonight, it's very likely we'll be seeing some erratic behavior from the president this week. Brace yourselves.