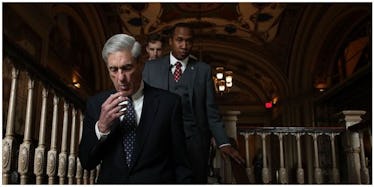 Russia Investigation May Have Just Made It Harder For Trump To Pardon His Friends
Alex Wong/Getty Images
As the Russia investigation continues to unveil more and more connections between the Trump campaign and the Russian government, it seems that the walls are closing in on President Donald Trump. Trump, however, has held onto one, ahem, trump card: the power of the presidential pardon, including the potential for Trump to pardon himself. But Trump might not be able to pardon his friends from Russia-related criminal charges, after all. Robert Mueller, the special prosector assigned to investigate Russian collusion, is now reportedly working with New York Attorney General Eric Schneiderman, which could prevent Trump from pardoning his friends.
Mueller is reportedly looking at the possibility of charging those involved in Russia collusion on the state level -- and President Trump cannot pardon state crimes or fire state attorneys general. Presidents do not have that power.
Politico reports that this indicates that the Russia investigation is heating up, and that Mueller is most likely looking for leverage to get former Trump Campaign Chair Paul Manafort to cooperate with investigators.
As New York magazine points out, he has no problem pardoning political allies, such as Joe Arpaio. So it's not a stretch to assume that he would also offer pardons to associates involved in the Russia investigation in exchange for silence.
Trump has previously tweeted that he has "complete power to pardon," but that's not true. He can pardon federal crimes (including his own), but not state crimes. If Mueller and Schneiderman work together to pin involved parties like Manafort for state crimes committed in New York -- which is reportedly sounding more and more likely -- they could use this as leverage to get Trump associates to talk.
Manafort was present at the infamous June 2016 Trump Tower meeting between Donald Trump, Jr., Jared Kushner, and Russian lawyers operating on behalf of the Russian government -- a meeting that was scheduled in order to get dirt on then-candidate Hillary Clinton.
NBC News also reported earlier on Thursday, Aug. 31, that Manafort was allegedly taking notes on his phone during the June 2016 meeting in Trump Tower. The notes allegedly including mentions of "donations" near a mention of the Republican National Committee. (It is illegal for foreign nationals to donate to American election campaigns.)
The FBI, at Mueller's behest, conducted a "pre-dawn raid" on Manafort's house in July, a common tactic used in mob-related cases and cases where investigators believe documents are at risk of destruction, according to The Washington Post. The pre-dawn raid pointed to Manafort as essential to understanding the scope of possible collusion, and reports that Mueller is looking to pin him in a way that Trump can't interfere with strengthens that notion.
Trump could still pardon himself for any federal crimes he is found guilty of, but that wouldn't stop him from being impeached. And Democratic House Rep. Al Green of Texas is currently trying to get rid of presidential self-pardons.
So there's a very real possibility that no one is safe -- not even Trump, who has somehow kept his hands clean as emails and documents reveal multiple connections between the Trump campaign and Russia.