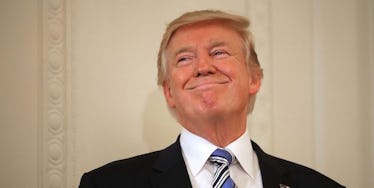 Donald Trump Says He Has "Complete Power To Pardon," But That's Not Necessarily True
Chip Somodevilla/Getty Images
Two days after reports that President Donald Trump had been asking his advisers about the extent of his presidential pardon powers emerged, the president took to Twitter in one of his characteristic early-morning tweetstorms to assert his "complete power to pardon."
"All agree the U.S. President has the complete power to pardon," he wrote on the morning of July 22, before going on a tirade against leaks to the media, Attorney General Jeff Sessions, Special Counsel Robert Mueller, and the Democratic party.
Trump has reportedly been asking advisers about whether he has the right to pardon family members, aides, and even himself, according to a Washington Post report on Thursday, July 20. His tweets on Saturday morning seemed to confirm that his pardon powers were on his mind, despite rhetorically asking, "why think of that."
Trump allegedly asked about his pardoning power in an attempt to undercut Mueller, who is investigating Russian meddling in the 2016 presidential election and whether the Trump campaign or its associates played any role in that.
Individuals close to the president, including his son Donald Trump Jr. and his son-in-law Jared Kushner, are under scrutiny for a June 2016 meeting with a Russian lawyer in which they were promised damaging information on opponent Hillary Clinton.
But while the president's pardoning powers are broad, they are not, as the president claims, "complete."
For one thing, the president has no authority over state crimes.
Article II, Section 2, Clause 1 of the Constitution gives the president the "Power to grant Reprieves and Pardons for Offenses against the United States, except in Cases of Impeachment." State crimes, however, do not fall under the president's authority, as a violation of a state law is not an offense against the United States. 
The Department of Justice states on its website,
The President's authority to grant clemency is limited to federal offenses and offenses prosecuted by the United States Attorney for the District of Columbia in the name of the United States in the D.C. Superior Court.
So, if a state chose to bring charges against the president or his family members, Trump can't easily brush those aside.
And it could happen — Maryland has already brought a lawsuit against Donald Trump on alleged violations of the emoluments clause to the Constitution, and New York state Attorney General Eric Schneiderman has been a notable opponent to Trump.
Secondly, as noted above, he can't pardon himself if impeached, though legal experts are mixed on whether he could successfully pardon himself for lesser crimes, according to Vox.
So, "complete" power to pardon? It really depends on how strictly you define "complete."
Pardon powers weren't the only thing on his mind on Saturday.
In his tweet storm, Trump also called out news media, attacked former opponent Hillary Clinton, and defended his son Trump Jr.'s release of a chain of emails related to his meeting with Russian lawyer Natalia Veselnitskaya.
He also directly called out The Washington Post in his Twitter rampage, referring to them as the "Amazon Washington Post," apparently in response to a Friday evening story that alleged Sessions may have discussed campaign-related matters with Russian officials during the 2016 presidential campaign, despite saying repeatedly that he had never done so.