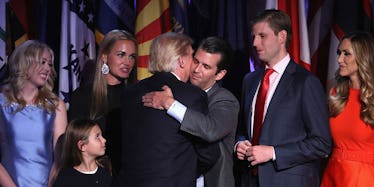 Twitter Is Completely Shook Over Trump Jr.'s Emails For The Russia Meeting
Mark Wilson/Getty Images
On Tuesday, July 11, Donald Trump Jr. tweeted out the chain of emails between him and Rob Goldstone that explicitly stated the Russian government had damaging information on Hillary Clinton and wished to offer it to the Trump campaign.
One of the emails to Trump Jr. states the information being offered "would incriminate Hillary and her dealings with Russia and would be very useful to your father."
The email added, "This is obviously very high level and sensitive information but is part of Russia and its government's support for Mr. Trump."
In response to all of this, Trump Jr. replied, "I love it," seeming to express no concern whatsoever about the source of the information or the potential consequences of pursuing it.
This entire situation is bizarre and potentially criminal.
Out of all the revelations to come out regarding the Trump campaign's alleged collusion with Russia, this is arguably the biggest by far.
In many ways, it's quite baffling Trump Jr. would release emails with such potentially incriminating information.
People are, quite understandably, feeling a whirlwind of emotions about all of this.
Many have taken to Twitter to let it all out.
Some legal experts believe Trump Jr. violated federal law.
Federal law prohibits a campaign from soliciting anything of value from foreign entities.
The law states, "No person shall knowingly solicit, accept, or receive from a foreign national any contribution or donation prohibited by paragraphs (b) through (d) of this section."
Such a contribution can be considered anything "of value."
But it's not clear whether information or documents, such as the info Trump Jr. was pursuing, would meet the legal definition of something "of value."
Did Trump Jr. commit treason? Some seem to think so.
The email chain was also forwarded to Jared Kushner and Paul Manafort, who also attended the meeting with the lawyer, and could potentially impact them as well.
What a time to be alive!