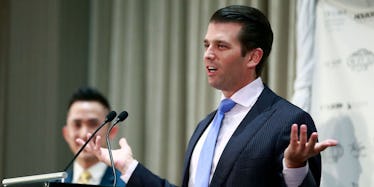 People Think Donald Trump Jr. Basically Admitted To Committing A Crime
Jeff Vinnick/Getty Images
Donald Trump Jr., the president's son, is in hot water over a meeting he had with a Russian lawyer with reputed ties to the Kremlin, Natalia Veselnitskaya, during the U.S. presidential campaign.
The meeting, which was also attended by Paul Manafort and Jared Kushner, adds to the scrutiny surrounding the Trump campaign's alleged collusion with Russian interference in the 2016 U.S. presidential election.
Trump Jr. released a statement on this meeting on Sunday, July 9, which some people feel amounts to a written confession he committed a crime (he doesn't see things the same way).
Before we explore the legal implications, let's go over what we know so far about this meeting.
Trump Jr.'s explanation for why this meeting occurred has been extremely inconsistent.
On Saturday, July 8, The New York Times reported Trump Jr. met with the Russian lawyer in Trump Tower in Manhattan two weeks after his father clinched the Republican nomination.
First, Trump Jr. said the meeting was "primarily" about a program regarding the adoption of Russian children.
But, after The New York Times subsequently reported Trump Jr. accepted the meeting after being offered damaging information about Hillary Clinton that would be helpful to his father's campaign, Trump Jr. changed his tune.
After the NYT story, Trump Jr. released a statement that said,
After pleasantries were exchanged, the woman stated that she had information that individuals connected to Russia were funding the Democratic National Committee and supporting Ms. Clinton. Her statements were vague, ambiguous and made no sense. No details or supporting information was provided or even offered. It quickly became clear that she had no meaningful information.
Trump Jr. more or less claimed he had no idea who he was meeting with when he agreed to it. Still, he brought along Manafort (Trump's campaign chair at the time) and Kushner (the president's son-in-law and now a senior adviser in the White House).
Trump Jr. stood by his story, and denied any inconsistencies. Beyond that, there are potential legal implications to all of this.
Some feel Trump Jr. may have committed a crime.
Legal experts feel Trump Jr. potentially committed a crime in his meeting with this Russian lawyer.
As Matthew Miller, a security and legal analyst for MSNBC and former spokesman for the Department of Justice, explained on Morning Joe on Monday, "It is a crime to solicit or accept anything of value from a foreign national in a campaign."
Indeed, federal law prohibits a campaign from soliciting anything of value from foreign entities.
The law states, "No person shall knowingly solicit, accept, or receive from a foreign national any contribution or donation prohibited by paragraphs (b) through (d) of this section."
The contribution can be considered anything "of value."
In most cases, something "of value" is defined as money, but the definition has been expanded in the past.
Simply put, it's not clear whether information would constitute as a thing "of value" under the law, but it's something to keep an eye on.