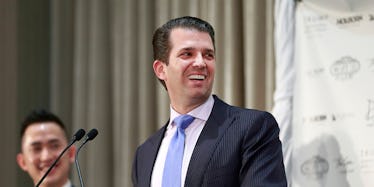 Donald Trump Jr. Reportedly Met With A Russia-Linked Lawyer During Presidential Campaign
Jeff Vinnick/Getty Images
The day after Donald Trump finally met Russian President Vladimir Putin, the story of possible collusion between his 2016 presidential campaign and Russia took another turn, as it was revealed that several members of his own family, plus his campaign manager, met with a lawyer associated with the Russian government in June of 2016.
UPDATE: A representative of Donald Trump Jr. provided Elite Daily with the following statement regarding the meeting.
It was a short introductory meeting. I asked Jared and Paul to stop by. We primarily discussed a program about the adoption of Russian children that was active and popular with American families years ago and was since ended by the Russian government, but it was not a campaign issue at that time and there was no follow up. I was asked to attend the meeting by an acquaintance, but was not told the name of the person I would be meeting with beforehand.
EARLIER: Donald Trump Jr., along with the president's son-in-law Jared Kushner and his then-campaign chairman Paul Manafort, met with Natalia Veselnitskaya at Trump Tower in New York City on June 9, 2016, The New York Times reported on Saturday.
The meeting, arranged by Trump Jr., is the first confirmed private meeting between members of Trump's inner circle and a Russian national.
Both Trump Jr. and Kushner confirmed the meeting to The New York Times, saying that it was primarily about an adoption program. Elite Daily has reached out to a press representative of Trump Jr. and will update this story with any reply.
Veselnitskaya is reportedly known to have strong ties to the Russian government, and has advocated against an American law, the Magnitsky Act, that blacklists Russians suspected of human rights abuses. Her clients include state-owned businesses, and her activities have reportedly caught the attention of the FBI.
Putin retaliated against the Magnitsky Act by stopping American adoptions of Russian children. Trump Jr. said in a statement to the Times that "it was not a campaign issue at the time and there was no follow-up."
Trump Jr. had previously denied having any campaign-related meetings with Russian nationals.
The Times'  report comes the day after Trump met for the first time with Russian President Putin at the G20 summit in Germany.
During the meeting, Putin denied any interference in the U.S. presidential election.
An investigation into Russia's interference in the 2016 presidential election is still ongoing. Several Trump associates, including former campaign chair Manafort and former national security advisor Michael Flynn are being looked at, according to NPR. Multiple U.S. intelligence agencies have agreed that Russia was involved in influencing the U.S. election.
Trump himself has downplayed reports of Russia's involvement, saying during a visit to Poland on Thursday that he wasn't sure the manipulation was entirely attributable to Russia, according to NBC.
I think it was probably other people and/or countries, and I see nothing wrong with that statement. Nobody really knows for sure.
Other officials have been less equivocal. UN Ambassador Nikki Haley said on Saturday that "everybody knows that Russia meddled in our elections," Politico reported.