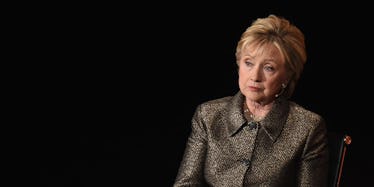 Russian Lawyer Offered Trump Surrogates Info On Hillary Clinton, Report Says
Michael Loccisano/Getty Images
A day after The New York Times reported that members of Donald Trump's inner circle had met with a lawyer associated with the Russian government, new reports say that campaign members were offered compromising information on Democratic candidate Hillary Clinton.
President Trump's eldest son, Donald Trump Jr., was allegedly promised "damaging" information on Hillary Clinton before the meeting, The New York Times reported Sunday. Trump Jr., along with the president's son-in-law Jared Kushner and then-campaign chair Paul Manafort, met with Kremlin-associated lawyer, Natalia Veselnitskaya in June of 2016, shortly after it became clear that Donald Trump had clinched the presidential nomination.
Anonymous sources told The Times that it was unclear if Veselnitskaya had produced any information, but the expectation was that she would do so.
In a statement to Elite Daily, Trump Jr. said that he had been asked to have a meeting with someone who "might have information helpful to the campaign."
After pleasantries were exchanged, the woman stated that she had information that individuals connected to Russia were funding the Democratic National Committee and supporting Ms. Clinton. Her statements were vague, ambiguous and made no sense. No details or supporting information was provided or even offered. It quickly became clear that she had no meaningful information.
The statement continues that Veselnitskaya then changed subjects to adoption, and that the offer of information had been a "pretext" for the meeting. "My father knew nothing of the meeting or these events," the statement concluded. A previous statement provided to Elite Daily said that the meeting "primarily" discussed an adoption program, and made no mention of other topics of conversation.
Requests for comment to representatives of Kushner and Manafort were not returned by publication time.
In the original report, Veselnitskaya is described as "a formidable operator with a history of pushing the Kremlin's agenda," including pushing against the U.S.'s Magnitsky Act, which blacklists Russian officials suspected of human rights abuses. Veselnitskaya's clients include government-owned businesses and a high-level Russian official's son, and she has reportedly garnered FBI attention.
The new development comes hours after President Trump took to social media for an early-morning Twitter spree in which he suggested that the United States and Russia would partner on cybersecurity, an idea that many found ludicrous. The suggestion comes two days after his first meeting with Russian President Vladimir Putin.
Trump has consistently shied away from admitting Russian manipulation in the 2016 election, which has been confirmed by multiple U.S. intelligence agencies. An investigation into Russian interference in the election is ongoing, and Trump associates, including Manafort, are being looked at.