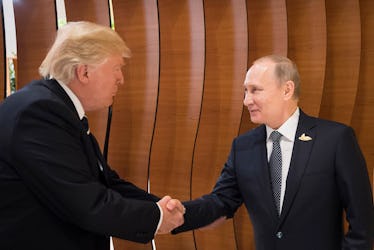 Donald Trump's Russia Cybersecurity Tweets Are Making Twitter Freak Out
Steffen Kugler /BPA via Getty Images
Donald Trump took to social media in an early-morning Twitter spree on Sunday, after returning home from the G20 summit, to talk about his meeting with new BFF Russian President Vladimir Putin. It seems the meeting between the star-crossed heads of state went well, at least to hear Trump talk about it.
In a string of tweets, President Trump briefed his 33 million Twitter followers on what happened in his 2-hour meeting with Putin. He threw his own Secretary of State, Rex Tillerson, under the bus by contradicting Tillerson's claim that the two had discussed the possibility of sanctions against Russia for its meddling in the 2016 presidential election.
Trump continued his goodwill-towards-Russia tour by saying that "it is time to move forward in working constructively with Russia!" and his traditional digs at the Democratic Party.
But bafflingly, Trump also addressed the elephant in the room, Russia's manipulation of the 2016 presidential election — by declaring he and Putin had discussed working together on cybersecurity.
You know that Russia… Russia is the one we need to protect ourselves from, right?
It is a Bad Idea to give them any influence or insight into how we're developing our cybersecurity. The idea of working with them is basically like storing a how-to manual on picking locks right next to your front door. One written in Russian.
Twitter, of course, raised its collective eyebrow.
Some saw metaphors.
And even politicians got in on it.
Trump has been notoriously resistant to admit that Russia hacked the U.S. presidential election, despite the consensus agreement of multiple U.S. intelligence agencies.
(Politifact recently took on the question of how many intelligence agencies had weighed in, and deemed it a matter of semantics — either way, the conclusion is valid.) In Poland on Thursday, Trump said that "nobody really knows for sure" who hacked the election, NBC reported.
Other officials, including members of Trump's own party, disagreed vehemently.
Nikki Haley, U.S. ambassador to the United Nations, told CNN on Saturday that "everybody knows that Russia meddled in our elections." And Senator Lindsay Graham, who briefly ran against Trump in the 2016 election, minced words even less. He called Trump's notion of working with the Russians "pretty close" to the "dumbest idea I've ever heard," according to The Hill.
Republican Senator John McCain found a silver lining. "I'm sure that Vladimir Putin could be of enormous assistance in that effort since he is doing the hacking," he joked.
Well, at least we know Putin is an expert on how a hack gets done.