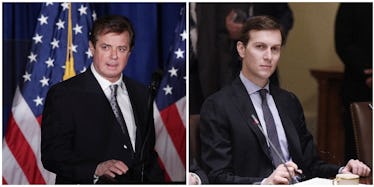 Trump Jr's Emails Are Finally Affecting Jared Kushner And Paul Manafort
Chip Somodevilla/Getty Images Olivier Douliery - Pool/Getty Images
As the story behind Donald Trump Jr.'s Russian email thread continues to develop, the fallout of President Trump's eldest son providing written evidence of possible collusion with a foreign agent continues to spread. This time, it's hitting former Trump campaign manager Paul Manafort and senior White House adviser Jared Kushner.
Manafort and Kushner were copied on the email chain in question -- with the subject heading "Russia - Clinton - private and confidential" -- and attended the meeting. But thus far, the lion's share of attention -- by both journalists and elected officials -- has been paid to Trump Jr.
As the dust settles, however, that's starting to change, and Kushner and Manafort are starting to feel the heat.
Kushner's strategy -- to keep his head down -- has mostly worked.
But Senate Democrats and even Obama-era ethics tsar Norm Eisen are now calling for Kushner's security clearance to be revoked.
Connecticut Senator Chris Murphy said, "I don't know why Jared Kushner still has a job. He allowed the president of the United States, the vice president, every spokesperson in the White House to openly lie about his contacts with the Russian government."
This is not the first time Democrats have called for the adviser's clearance to be revoked.
After it came out that he was being scrutinized by the FBI for dealings with Russia and had even discussed opening a "secret line of communications" with Russia intelligence, a group of 40 Democratic house reps demanded his clearance be revoked.
Kushner is also facing fire from within the White House itself, as President Trump's lawyer, Marc Kasowitz, is reportedly so "fed up" with Kushner that it's rumored he may resign, according to New York Magazine.
And what of Trump's former campaign manager?
As early as March, Manafort had agreed to be interviewed by both congressional intelligence committees, but now the Senate Judiciary Committee is reportedly planning to interview him as well, according to The Associated Press, and are even willing to subpoena him. Committee co-chairs Republican Chuck Grassley and Democrat Dianne Feinstein are reportedly planning on asking him about enforcement of a law requiring foreign lobbyists to register with the government.
"Obviously it would be appropriate for anybody to get into anything that went on at that meeting, and he was at that meeting," Grassley said.
At the end of June, Manafort's lobbying firm registered as a foreign agent -- almost a year after the AP reported that Manafort and another Trump campaign employee had allegedly helped a pro-Russia Ukranian political party send secret money to Washington lobbyists in 2012. And now, as Manafort's presence at the June 2016 meeting in question has been confirmed, the Judiciary Committee is preparing to determine any Manafort's role in Russian interference in the election.
The House of Representatives also has questions.
The House intelligence committee is looking to determine whether or not Russian social media "trolls" were connected with the Trump campaign in any way, per the AP. This may bode poorly for Kushner, who was in charge of digital strategy for the campaign.
Even though both Manafort and Kushner were being scrutinized long before Trump Jr. provided the receipts, written confirmation of their involvement in -- or, at the very least, knowledge of -- possible Russian collusion does not bode well for either man.