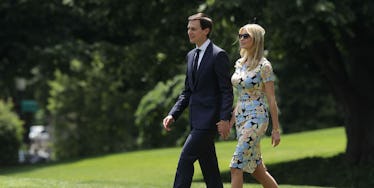 What Might Ivanka And Jared Know About The Russia Meeting With Trump Jr
Alex Wong/Getty Images
After a full year of insisting that he had never discussed campaign-related matters with Russian officials, and then making several contradictory statements in response to a New York Times article, Donald Trump, Jr. today tweeted out a copy of an email chain which seemingly confirms that he met with a Kremlin-associated lawyer after being promised dirt on Hillary Clinton.
The documents also contain confirmation of another important detail: Paul Manafort, then-Trump campaign manager, and Jared Kushner, a senior Trump adviser and husband to eldest Trump daughter Ivanka, were present at the meeting.
And that raises the question: exactly how much do Kushner and Ivanka know about the extent to which Russians attempted to interfere in last year's presidential election?
These emails -- which explicitly state that a Russian government lawyer is looking to furnish them with dirt on the Clinton campaign -- were forwarded to Kushner.
In late May, news broke that the FBI is looking into Kushner's role in the Trump campaign's potential contact with Russian officials, and this email chain seems to confirm that he was, at the very least, aware that Russian officials were attempting to tip the election in favor of Trump. Though Trump Jr. has so far taken most of the heat for the meeting — not least of all because of his ever-changing and possibly incriminating statements — the email chain suggests that whatever information Trump Jr. had, Kushner and Manafort had as well.
Whether or not that means he took an active role in this alleged collusion is another matter all together.
Per his M.O., Kushner has been quiet -- as has Ivanka.
Since news of her brother and husband's encounters with Russian officials broke, the eldest Trump daughter, who is usually quite active on Twitter, has been relatively silent. While she mostly posts family photos and videos, information on meetings she attends in an official capacity, retweeted information about interviews she does for shows such as Fox and Friends, and occasionally op-eds she writes advocating for her father, the silence is loud, given her usual Twitter habits.
The last thing posted to her Twitter at the time of publication was a retweet of her father:
And before the July 8 news of her brother's (and husband's) possible collusion with foreign officials broke, she had tweeted several times about the G20 summit.
Ivanka has gone quiet for several days at a time in the past, and the pattern seems to be that she stops tweeting whenever a negative story about her father and/or his presidency breaks: she went silent around the same time Senate Republicans and her father were catching heat for the Senate version of the Obamacare repeal bill, just before the July 4 recess. Additionally, the couple notoriously stays out of the spotlight when things heat up.
While Ivanka is neither her brother nor her husband, her connection to both of them -- especially Kushner -- could matter.
Political couples have seen trouble from the alleged sharing of emails in the past. In October 2016, when then-FBI Director James Comey seemed to re-open the Clinton e-mail investigation, it was based on his claim that Huma Abedin, vice chairwoman and personal assistant to Hillary Clinton during the 2016 campaign, had forwarded sensitive information to her husband, former Congressman Anthony Weiner.
Ivanka recently -- and infamously -- said that she tries to "stay out of politics" despite the fact that husband Kushner is one of the president's closest advisers and she herself has attended several high-level meetings -- even before she became Special Assistant to the President. She very clearly has a somewhat political role in the White House, and was certainly involved in his presidential campaign.
And it's reasonable to assume that she -- as both sister to Trump Jr. and wife to Kushner -- knew about the meeting for several reasons. Not only is her husband one of Trump's closest advisers, but she has stated in the past that she and Kushner have a very close relationship, and they reportedly have a habit of bringing their business dealings into their relationship. In a 2015 Vogue profile, Ivanka said that her husband's idea of a date night "somehow always involves me looking at a development site," and Kushner, at least, speaks of their romance in business terms.
They also present a united front when it comes to their involvement in the Trump White House:
And they reportedly approach their political duties as a unit, according to The Hill. It wouldn't be farfetched to think that they share what they know with one another.