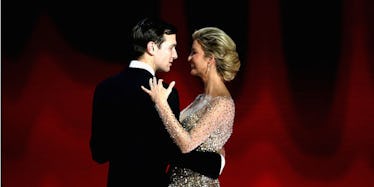 How Ivanka Trump And Jared Kushner Met Will Make You Want To Watch A Romantic Comedy
Rob Carr/Getty Images
In case you haven't heard the story, Jared Kushner and Ivanka Trump didn't have the textbook rom-com beginning to their relationship.
In fact, the relationship was initially the result of a business lunch set up by a mutual friend who intended to bring them together to network and benefit their mutual real estate interests.
For all of us in families not involved in billion-dollar real estate transactions, their love story might seem like anything but inspiring.
While some have labeled their meeting as "mildly cringey," celebrity matchmaker Alessandra Conti of Matchmakers In The City tells Elite Daily that meeting over business isn't a stretch of the imagination in the case of Trump of Kushner. She says,
It is important to understand that when a public figure is single, there are not the usual options for them to meet a mate; it's not like Ivanka Trump could casually make a Tinder profile. ... If a high-profile person is not working with a personal Matchmaker, mutual friends are trusted allies. Ivanka and Jared were lucky ones; they met through mutual friends who thought that it could be a potential match because they were both in the real estate world.
After facing problems from Kushner's family due to Trump not being Jewish, which the cause for a temporary breakup in 2008, she converted to the religion and has spoken positively of the conversion.
The couple was married in October 2009 and appears to be going strong, according to body language experts.
Trump described the match in an interview with Jewish Insider as "the best deal we ever made!" Kushner also referred to the couple's dynamic in business terms, calling Trump, "the CEO of the household." Clinical-sounding, yes, but whatever works, right?
Trump has stressed that she and Kushner aren't into the socialite scene. Conti tells Elite Daily,
What a lot of people don't know about celebrity couples is that they crave normalcy; it is their job to go to red carpet events and make appearances at upscale galas and benefits. When it comes to their private personal lives, they crave a down-to-earth experience where they can unplug and just enjoy the simplicities of daily life. You can see this with Ivanka and Jared; they are rarely photographed at bougie clubs in NYC, and they have even said that they prefer living a mellow life.
Their "How We Met" story is not made-for-TV romance, to be sure, but hey, it's a far cry from the iciness of Melania and Donald.