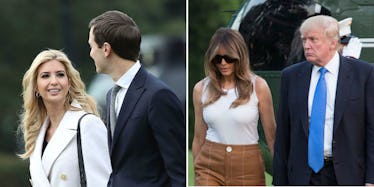 Ivanka Trump's Marriage Is Way Different From Dad's, Says Body Language Expert
Mark Wilson / Chris Kleponis-Pool / Getty Images
While various slo-mo clips of Melania Trump avoiding holding her husband's hand dominate conjecture of the president's marriage, his daughter appears to have a fairly successful relationship, according to body language expert Susan Constantine.
Constantine had nothing but good things to say of Ivanka Trump and Jared Kushner's relationships when I talked to her. Here are a few of the biggest clues that this couple is on solid ground.
She says,
They're both great parenting those kids together. If one has a kid on their hip, the other one is pushing the stroller. I see that they do parent together. I see them both on the same playing field, with great respect for each other. Neither one of them has an issue with being beside one another.
Whereas Melania and Donald have an apparent growing feud over handholding, Ivanka and Jared are fairly consistent.
Constantine notes that specifically when they're holding hands, Ivanka's body language shows her being more submissive:
For as powerful as she is, she does take on a female role. When they're holding hands, she doesn't take the power hand gesture which is her hand over her husbands. She goes into the submission role, which is her palm is facing towards his and underneath.
Constantine also points to Ivanka's stance with Jared as evidence that there is a strong physical connection and sexual attraction between the two, something that has arguably been less apparent with FLOTUS and her husband.
When they walk, they build rapport. Often times, when they're in posed position, when the cameras are on them, they're often mirroring each other, so their gestures are somewhat synchronized. That's a good sign. … Their facial expressions are of love and admiration and respect.
By contrast, Constantine notes a lack of acknowledgement and equality between the First Lady and the President:
The most important thing that stood out to me was the complete opposite of connectedness in their relationship. Donald Trump does not make [Melania] feel present when she's there. It's all about him, she's left in the breeze, she's unimportant to him in that respect. ... It's complete discord with Melania and Donald Trump.
If there was ever any inkling of competition between the two White House couples, well, it doesn't seem to be much of a competition anymore.